Ed Helms Likened This Part Of His Hot Ones Experience To 'A Car Crash'
The mega-popular web series "Hot Ones" has featured a long list of famous faces over the years, including actors, musicians, athletes, comedians, authors, TV personalities, and more. The show, which started back in 2015, is now on its 17th season, per TV Guide. The premise is simple: Sean Evans, the program's host, interviews celebrities one-on-one while they indulge in chicken wings doused in some of the hottest hot sauces on the planet. 
Unsurprisingly, hilarity ensues through the course of the dialogue. Let's just say that some guests aren't too fond of extremely spicy foods. (We're looking at you, Gordon Ramsay!) Others, however, powered through the peppery progression with little to no trouble. (What's up, Halle Berry?) The special guest for Season 17, Episode 3 was Ed Helms, the beloved actor who is widely recognized for his comedic roles as Andy Bernard from "The Office" and Stu from "The Hangover" trilogy (per IMDb). Throughout the episode, Helms kept his cool ... sort of.
Ed Helms compared Beyond Insanity hot sauce to 'a car crash'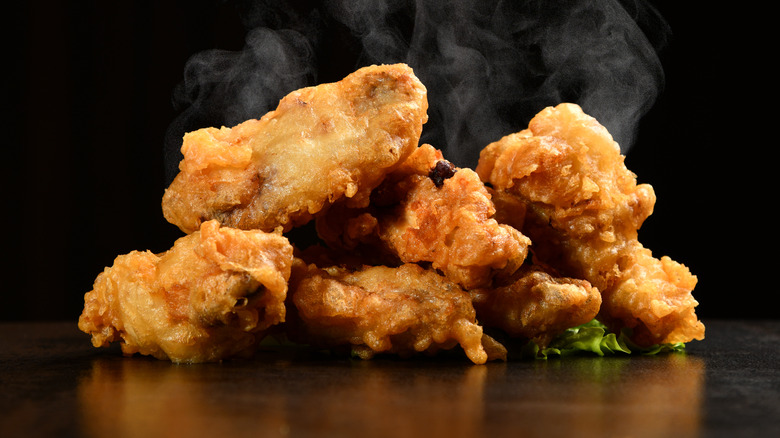 Dmitry Lobanov/Shutterstock
During Ed Helms' appearance on "Hot Ones" – which premiered on the series's YouTube channel on February 3, 2022 – the funnyman revealed plenty of fascinating facts about his career as a standup comedian, screen actor, skilled banjo player, and kid growing up in Atlanta. For instance, when he played the role of a dentist in "The Hangover," no special effects were needed during the scenes in which his tooth was missing, as he was able to remove his incisor implant with the permission of his real-life dentist. At the very beginning of the chat, he admitted he was nervous, but did his best to battle through the lineup.
However, when Helms took a bite out of the wing spun in 13 Angry Scorpions' Jekyll and Hyde sauce – which is made with keg-aged Trinidad scorpion and chipotle peppers, according to the Australian hot sauce brand's website - he stated, "I feel like this is like 20 or 30 scorpions... We might need to call a medic" (via YouTube). Then, upon tasting the eighth blistering sauce, Da' Bomb Beyond Insanity, things got even more heated. Both Helms' and Evans' eyes began watering profusely. "There's nothing redeeming about that," Helms declares while showcasing physical pain via tears, sweat, drool, and a runny nose. "This has turned into... Yeah, this is like a car crash." Thankfully, "The Nard Dog" finished strong, just like his acapella-loving character would.