What You Need To Know About The 2022 Meat Shortage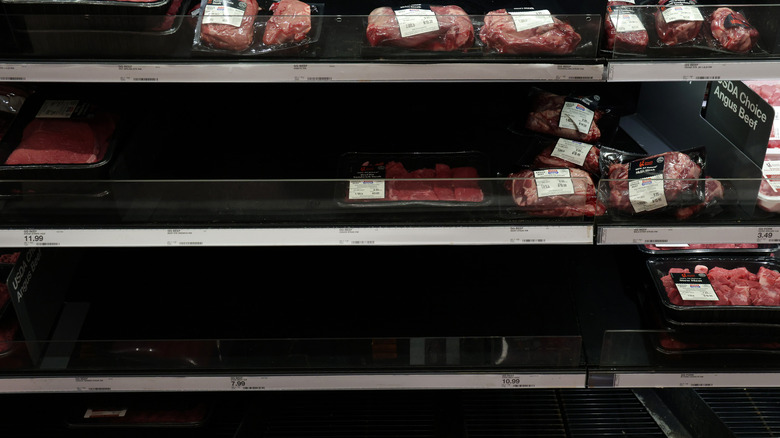 Alex Wong/Getty Images
If you haven't been finding what you came for at the grocery store lately, you're not alone. In January, USA Today reported that grocery stores nationwide were experiencing heightened shortages. According to the outlet, the spread of the Omicron variant coupled with winter weather events have devastated the supply chain resulting in less of certain items making their way to store shelves.
Meat, in particular, is facing a unique set of supply chain challenges. In addition to labor shortages, a reduction in the availability of packaging materials, such as aluminum and plastic, is impacting the distribution of meat (per Eat This). As if those factors weren't enough, there have also been price hikes affecting the industry on everything from the fertilizers used to grow cattle feed, to the carbon dioxide used to keep the meat cold (via CNBC). When combined, all these factors lead up to one thing: less meat. And, if you were paying attention in Economics 101, then you know low supply spells bad news for consumers' wallets.
Meat shortages lead to price increases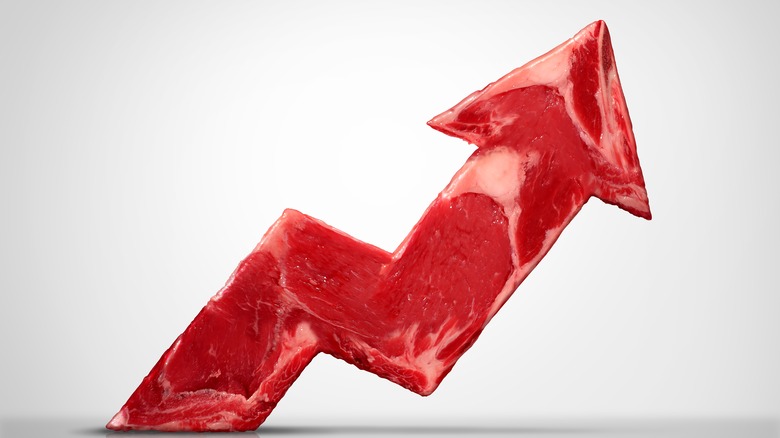 Lightspring/Shutterstock
If you've been spending some time in the meat section, then you also know how much the prices have shot up. Bindiya Vakil, CEO and founder of supply chain data analytics company Resilinc, told Eat This that meat is a major contributor to inflation, with cuts like boneless chuck roast, for example, having seen prices rise by as much as 25 percent. If you're looking to get your meat fix, but avoid exorbitant costs, Vakil points out that T-bone steak (one of our favorite steaks!) has only seen a price increase of $1 per pound, which is low compared to other cuts. Vakil also recommends opting for bone-in chicken to save money over boneless, or choosing a plant-based protein instead of meat.
Though meat price tags have been excruciating to see for some time, there may be some light on the horizon. The White House has put together a plan for a "Fairer, More Competitive, and More Resilient Meat and Poultry Supply Chain" that looks to create more choices and better pricing for consumers. Also, according to the Bureau of Labor Statistics' Consumer Price Index, the price index for meats, poultry, fish, and eggs finally fell in December. Hopefully, this is the beginning of a trend that will be good for our budgets. Just think — wouldn't it be nice to not have to alter your recipes someday because of those sky-high meat stickers?