The Food NFL Quarterback Mac Jones Says He Enjoys 'Too Much'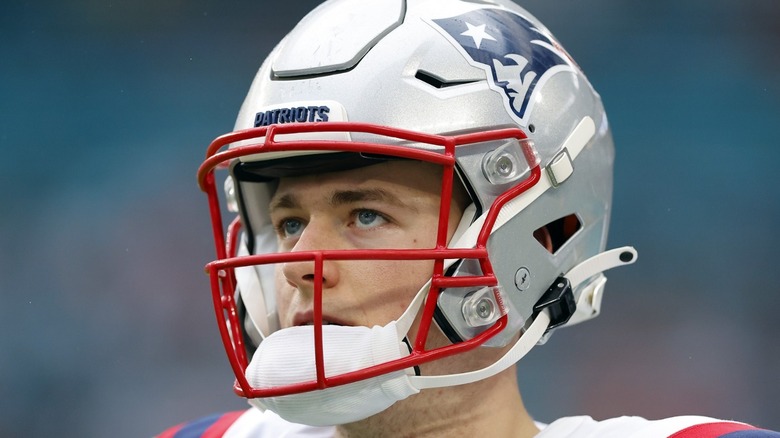 Michael Reaves/Getty
Mac Jones, in case you're not up on your NFL rosters, is the quarterback for the New England Patriots, a team that – like 30 other teams – will not be playing in the Super Bowl this year. As SB Nation reports, the Patriots tapped out early, falling to the Bills in the Wild Card round. This means that Jones, along with millions of other Americans, will likely be watching the big game from his couch.
We don't know what Jones' game day menu will be. Is he a wings man, or more of a chili guy? Massachusetts, on the whole, favors a bowl of red. But the Florida Times-Union says Jones is originally from Florida, where people are more into wings. Jones also played for the University of Alabama, and that state likes a nice steak dinner on game day. While we're not sure what Jones' football watching snack of choice may be, his pre-game meal is a doozy: NESN says he always has steak, eggs, and spaghetti before he plays. After the game, though, he's all about rewarding (or consoling) himself with a sweet treat. As Jones admitted in an ESPN interview (via Twitter), there is one particular dessert he may be just a tad too fond of.
Jones is really into mochi ice cream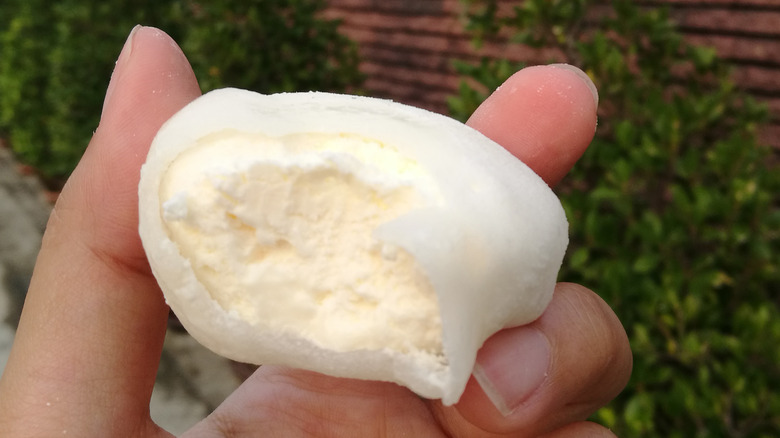 Bthird_Bird/Shutterstock
When ESPN asked Jones what the "worst thing" in his diet was (the judgment is their, not ours), Jones fessed up: "I like ice cream too much." He's not talking about his predecessor Tom Brady's famous (or infamous) avocado-based substitute, though. Instead, Jones said in an interview on sports radio WEEI (via Patriots Wire), his absolute favorite is mochi balls. He describes them as "like the rice balls with ice cream in them. They're so good."
Too bad the Pats didn't make it to the Super Bowl! If they'd won, Jones would have gotten to go to the White House and hang out with another famous ice cream fan, chocolate chip-loving Joe Biden. (Jones is also partial to chocolate chips.) Jones and the POTUS have something else in common, as well: it seems they both eschew alcohol. Whether or not his teammates may go out to celebrate with a few beers or other boozy beverages of choice, Jones says he prefers to just go home and enjoy his ice cream with his family and his puppy. Aww!! No matter what the Pats' record may be, ice cream- and puppy-loving Jones is a winner in that respect.