Instagram Is Raining Hearts On This Video Of Joanna Gaines' Son Skiing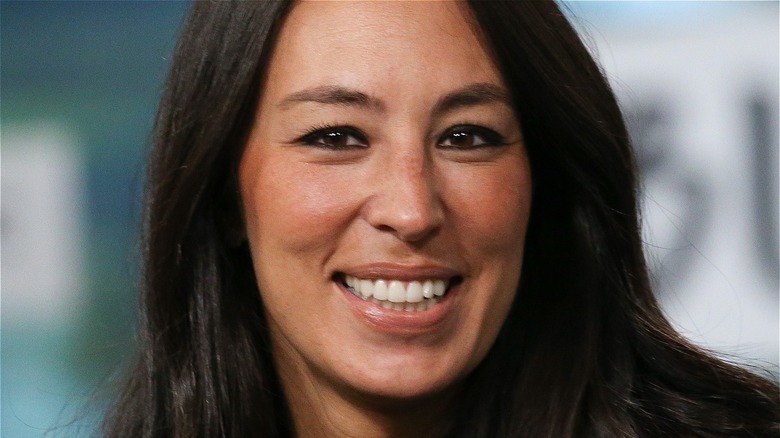 Rob Kim/Getty
Some people are natural athletes. Joanna Gaines' recent Instagram post featuring her young son, Crew, skiing might just prove that. The video post, which as of this writing has over 268,000 likes, shows members of the Gaines family hitting the ski slopes. The tiniest family member is an adorably bundled-up Crew, who's shown wearing toddler-sized ski gear. With a bit of assistance, the child holds his own on the snow, seeming to easily navigate the hills. Other members of the Gaines crew, including Joanna's jeans-clad husband Chip, appear pretty comfortable sliding along the frozen terrain as well. But the same can't be said of Chip's "Fixer Upper" co-star.
Joanna, who was presumably the designated recorder, captioned the post, "They all ski circles around me – I'm just going to stick to my roller skates," in an apparent nod to her New Year's resolution to roller skate more. Instagrammers took to the comments to applaud Crew's talent and aww over the cuteness overload. "Holy cow! Crew is killing it!" wrote one user, while another chimed in, "Omg! Is this adorable or what? How old is he? Wasn't he just born? Why oh why do they grow up so fast?!?!?"
Crew Gaines was born to ski
Instagram users showered Joanna Gaines' video post with emojis. Red hearts and black hearts as well as heart-eyed and heart-covered faces littered the comments section as fans appeared to love seeing the little skier in action. Turns out this wasn't even Crew's first time on the slopes; he's been skiing since he was just 1 year old, according to a 2020 Facebook post from Joanna which shows a video of Chip helping the youngster down the snowy hill with the caption, "I can't stop watching this video and I wonder how it's possible that a 1 year old is a better skier than me."
Joanna also posted another equally adorable Instagram video in which she and Crew sled down a small hill. One had more success than the other, and it wasn't Crew's mother. A spill onto the snow affirmed her commitment to leaving the winter activities to her family and sticking to roller skates. "Someone has to keep the house cozy and the hot cocoa ready," commented one supportive fan. Another commenter thanked Joanna for keeping it real and being a relatable mom, writing, "Thank you for sharing all you [oops] moments. As a mom, I totally appreciate that! Oh man can I relate."