Instagram Is Loving Ryan Seacrest's Take On Mediterranean Cooking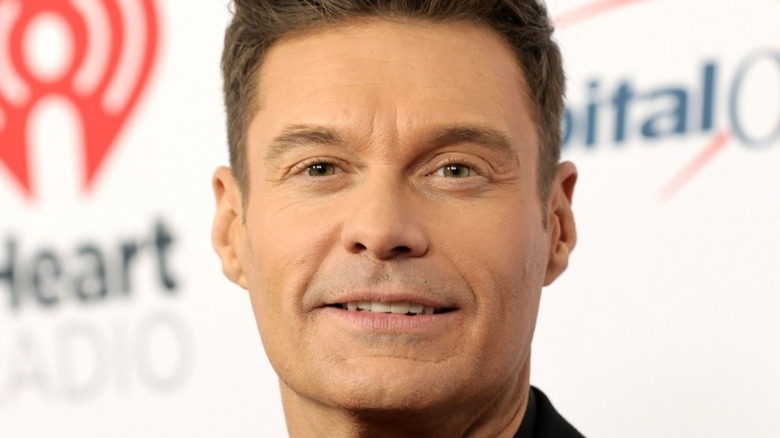 Amy Sussman/Getty
Ryan Seacrest might not be the first name that jumps to mind when you think of cooking videos, but that might change. Seacrest, who got his start as the host of "American Idol" and is now the co-host of "Live with Kelly and Ryan," has posted a cooking video on his Instagram that has fans drooling.
In the video, Seacrest is wearing a black t-shirt that says "Yes Chef," which he claims is "way too tight," along with some checkered pajama pants. But some fans were more interested in what he was cooking rather than what he was wearing. He is shown making a baked Mediterranean sea bass dish with olive oil, capers, onions, lemon, and parsley, along with a Caesar salad, which the star says is the only salad he can make. The finished plate also includes what looks like sauteed onions and peppers. The dish looks so tasty, even a well-known celebrity che was impressed with Seacrest's cooking chops.
Seacrest delivers a dish worthy of celebrity chef status
Geoffrey Zakarian, co-host of Food Network's "The Kitchen" and a judge on "Chopped," commented on Seacrets post "That looks delicious chef!" Not-so-famous followers were similarly impressed, exclaiming "Looks delicious! Very impressive Chef Ryan," "Please share the recipe!," and "Would love to know the Caesar salad recipe." With 862 comments so far, you'll notice a sprinkle of blue checks and a spattering of folks using the post to crush on the star.
More importantly, this isn't Seacrest's first foray into the food world. He actually won an Emmy in 2010 for his work as Executive Producer on "Jamie Oliver's Food Revolution" (via Emmys), and he's posted other food-related pictures and videos on social media. He even took a seafood prep class at the Culinary Institute of America in Hyde Park in 2021 (via Poughkeepsie Journal). Perhaps his newfound seafood skills are why this meal struck a chord with fans, as one brazenly asked "You gonna start your own cooking show?" 
For now, we just have to wait and see if Seacrest's interest in cooking leads to anything beyond social media posts.