Guy Fieri Just Invited His Fans To Be Featured On Flavortown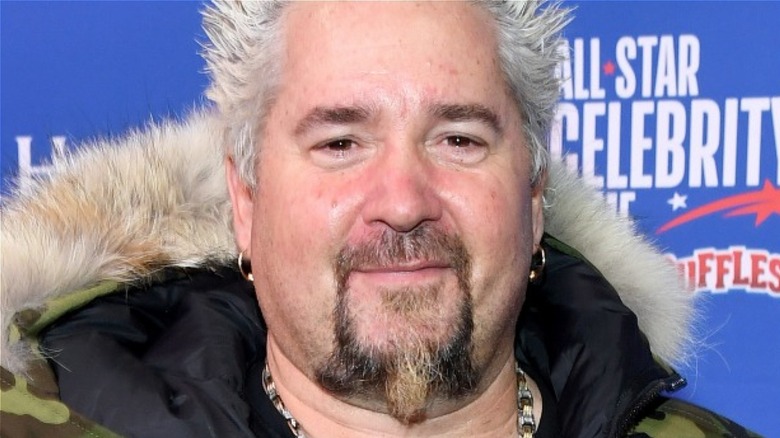 Kevin Mazur/Getty
There are probably plenty of Guy Fieri fans who have wanted to be residents of Flavortown, which Food Network defines as "a mythical place, a state of mind, where fun and food meet in perfect harmony." Fieri says Flavortown was created to give "iconic food items" and "iconic food moments" a place to live. The town even has its own laws, made by Mayor Fieri, of course. They include "more bacon is always a good choice" and "always use sauce with authority." They're not exactly as groundbreaking as the Code of Hammurabi but are probably much better-suited for breaking bread.
Flavortown has been featured on "Diners, Drive-Ins, and Dives" and "Guy's Grocery Games" and only continues to grow in popularity with its own social media accounts; @flavortownusa, for example, has 81,000 followers on Instagram. Guy Fieri is now drawing on fans' love of Flavortown to create a new opportunity: the chance to be a "resident."
Fans will make videos showcasing their Flavortown-worthy creations
Fans eager to get a taste of Flavortown might finally get to satisfy their hunger by having their recipes displayed on social media. The opportunity was recently announced on Flavortown's Instagram account with a video featuring several dishes, including burgers, tacos, and nachos (above). The caption read, "GET FEATURED ON FLAVORTOWN. Looking for Flavortown residency? It's time." But it doesn't quite sound like the town is big enough for everyone. The text overlay in the video explains that Fieri is looking for "the best content that the citizens of Flavortown have to offer!" Those interested in entering should create a video highlighting their dish and submit it on the contest's website.
Instagram seems to be quite interested in participating, and as of this writing, the post has over 6,000 likes. Users also took to the comments to express their excitement. "This would be so epic," one person commented. A second user served a plate of urgency: "I NEED flavortown residency like I've never needed anything before." A third tagged a friend and wrote, "literally is our one shot at gold. Clear your schedule."