These Are The Most-Googled Food Terms Ahead Of The Super Bowl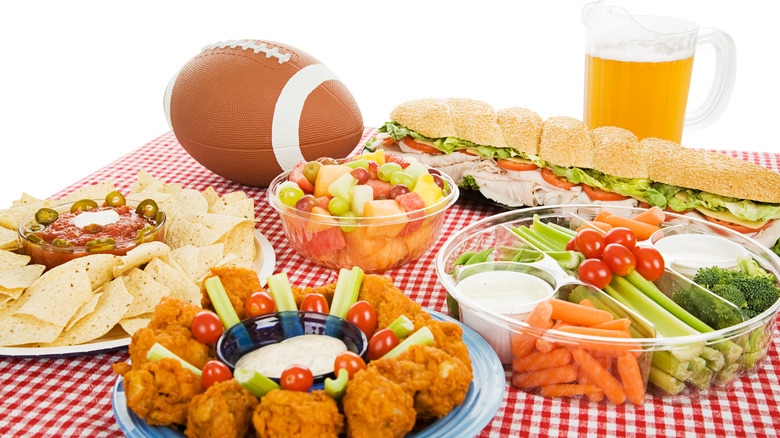 Lisa F. Young/Shutterstock
The thing about the Super Bowl is that, for many fans, it's not solely about the match-up taking place on the screen — the other components around the football festivities are just as important. Some fans eagerly await the half-time show, excited to see what the performers will bring to the stage. Others can't get enough of the commercials woven throughout the game, where big brands put their best attempts forward and often pull in famous faces for the promos. And for many more, it simply wouldn't be a Super Bowl without tasty snacks and bites to pair with the main event.
If you're planning a menu for your Super Bowl LVI bash and looking for ideas — or are just curious about what others are going to nosh on during the big game — luckily, Google has some intel, releasing some of the most-searched Super Bowl food terms. And, the results are filled with the types of dishes you'd likely find at any sports bar, that can pair perfectly with an exciting game.
The most-searched list includes a variety of chicken wings — buffalo wings in certain areas of the country, and more generic hot wings in other sections — as well as dips galore. Though buffalo chicken dip comes out on top, the rankings are rounded out with different varieties of cheese dips, too. One dip-related wild card came from search results in Oklahoma — Super Bowl fans there are clearly looking for dessert, with chocolate chip cookie dough coming in as the most searched dip.
Past favorites are guaranteed crowd pleasers for your Super Bowl spread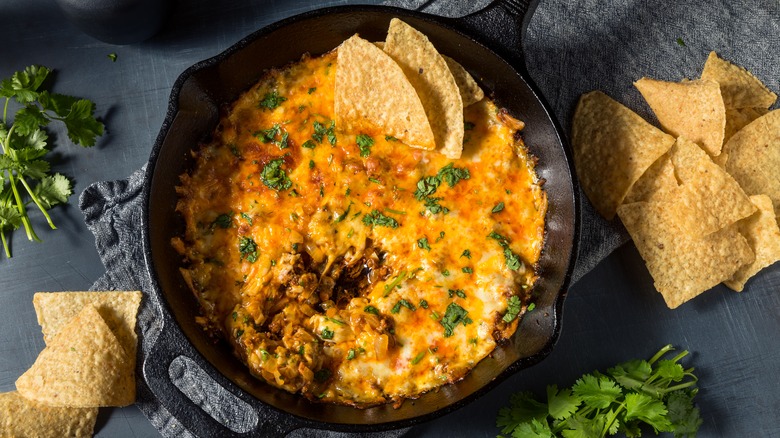 Brent Hofacker/Shutterstock
This year isn't the first time Google has shared this data with football fans. The search engine has been releasing the most-searched Super Bowl food terms for years, and there have been some interesting results in years past, too.
In late 2020, as People reported, some states were getting football-ready by looking for recipes for spinach quiche, cupcakes, mac and cheese, and hamburger sliders. In 2021, via Delish, Texans were feeling a dessert course and searching chocolate chip cookie recipes; Oregon was in the mood for Italian with many residents looking for pasta fagioli recipes; and some states even got a bit fancier, searching for the perfect charcuterie board, prawn toast, and Wagyu beef.
While there are always a few surprising dishes that pop up based on trends in a particular area, or foods that are trending in any given year — for example, 2021 diners in some states were looking for keto egg bites and chia seed coconut milk desserts — there are always some recurring dishes that are sought year after year.
So, if you want to skip the trending data and just come up with a menu packed with guaranteed crowd-pleasers, you may want to go with some of the items that reign supreme every time. According to Today, when the search terms from 2004 onwards were considered collectively, five dips consistently come out on top: buffalo chicken, spinach artichoke, seven-layer, chili, and taco dip. Now, those are some real champs!