Guy Fieri Stopped By A Small Snack Stand And Instagram Is Loving It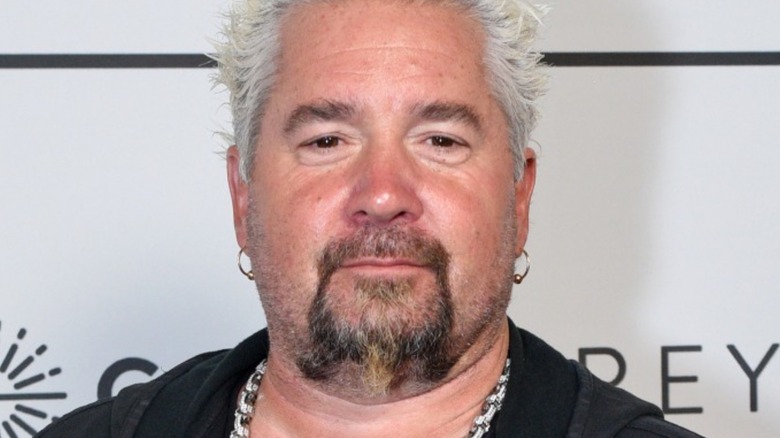 Vivien Killilea/Getty
Guy Fieri may be a big-time celebrity chef who rules the roost as the Mayor of Flavortown, but perhaps at heart, he's a small-town guy who wants to support small businesses and the "entrepreneurial spirit." Last week, Fieri shared a video on Instagram of a pit stop he made at a boy's pop-up neighborhood snack food stand while driving on the streets of Los Angeles. Fieri captioned the video, "Supportin' small businesses out here in LA!" And with over 150,000 views and over 24,700 likes, fans are loving the encouragement and confident vibes the host of "Diners, Drive-Ins and Dives" gave to the young man.
Amid the roar of cars captured in the video, Fieri says, "Cruising through L.A. and I see this young businessman right here with his family. He has set up a stand." Fieri asks, "What are you selling bud?" And the young man tells him, "Soda and some snacks." While this setup didn't resemble the kind of diner or dive you might associate with Mr. Frosted Tips, he seemed more interested in the boy's drive. "When you see kids out here doing this you have to support this entrepreneurial spirit," Fieri said. "Nicely done." He followed up those words of encouragement with a fistbump of approval. Naturally, Instagram was loving this.
Fieri once had his own snack business
Plenty of positive chatter ensued from Guy Fieri's followers on Instagram. Rocker Sammy Hagar, who made a tequila with Fieri a display of drinkable entrepreneurial spirit, wrote, "Hey partner you're a good man." Instagram user newmansandra wrote, "Love how you support everyone [especially] young generations." And an eagle-eyed follower, jsfink5, took note of what the young man was selling and offered, "Pepsi, too! He's a winner!" Additionally, a slew of fellow Food Network chefs also expressed their support and approval including, Richard Blais, Cat Cora, Aarti Sequeira, and Chris Oh.
But Fieri's support is really not all that surprising. Growing up, Fieri called the little town of Ferndale, California, home, according to Eater. Ferndale Is also the place where Fieri first created his own small business as a youth. As explained on his personal website, the future Food Network star was just 10 when he started his first food venture, the Awesome Pretzel Cart. He explained to the "Sporkful" podcast that a winter ski trip introduced him to steamed pretzels that would entice and inspire him. Fieri would take his pretzel cart to local fairs and sell his beloved pretzels, marking his foray into the world of food as a business. Perhaps the cookbook author sees a little of himself in youngsters like the one featured in this video.