Eli Manning's Stella Artois Collab Creates A Different Kind Of Super Bowl Pressure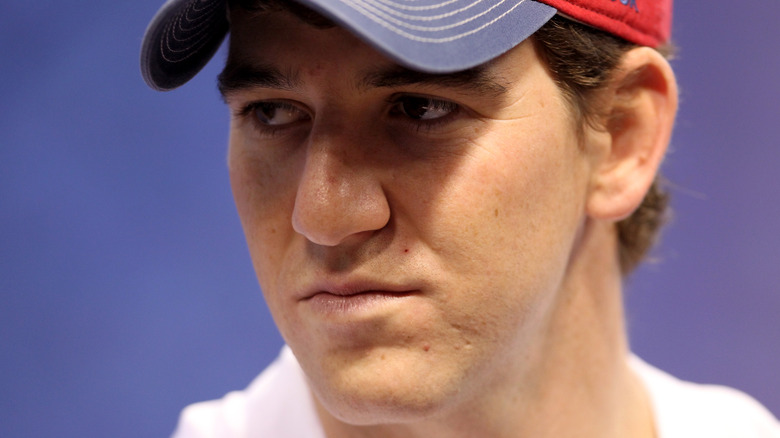 Andy Lyons/Getty Images
Pressure: the feeling you get when you go cleat-to-cleat with possibly the greatest quarterback football has ever seen on the grandest stage of them all. Eli Manning has felt that pressure on two separate occasions and passed with flying colors – or rather flying footballs. Manning, of course, scored two Super Bowl victories at the expense of then-New England Patriots QB Tom Brady (via Forbes). In 2008, Manning and his fellow New York Giants pulled off what Men's Journal called "one of the greatest Super Bowl upsets in history." While they might be Giants any other time, this New York team played the David to New England's Goliath.
The Patriots had gone unbeaten in the regular season and boasted a world-beater in Randy Moss, who FiveThirtyEight said in a headline "may have well been the greatest receiver of all time." Manning would form one-half of the seemingly physics-defying "Helmet Catch" with David Tyree before New York went on to win it all with a touchdown.
You might think that after pulling off something so dramatic, so clutch, so unexpected, Manning would be unflappable in practically any situation. Yet even though there's no championship on the line this year and no chance to dash the historic hopes of Tom Brady, the former quarterback has teamed with Stella Artois for a challenge that, by his own admission, is a bit scary to him (via People).
Tasked with tackling the bar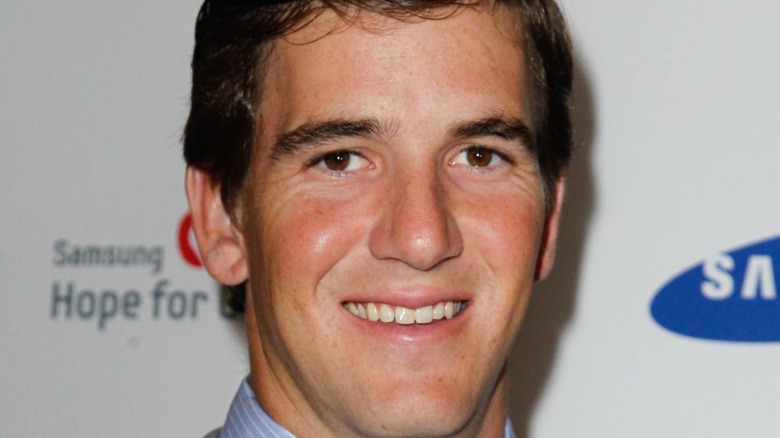 Debby Wong/Shutterstock
Stella Artois is debuting its "Make Time for The Life Artois" campaign during Super Bowl LVI this year. This campaign sets out to "inspire everyone to be more mindful amid the chaos of the day-to-day to take time to enjoy moments with the people who matter most" (via Anheuser Busch). To put these words into action, the brand has partnered with NFL legends Eli Manning, Ryan Clark, and Dan Marino to give a pair of tickets to the Big Game to three hardworking food and beverage workers. 
Knowing how understaffed restaurants currently are, taking a worker away on one of the busiest days of the year might not sound like a great idea. But fear not, or maybe fear a little if you're Eli Manning. He will be behind the bar in Las Vegas (via People). Despite excelling under the pressure of past Super Bowls, he admitted, "I'm excited, and a little scared honestly, to fill in." But the question is, will he crack under the pressure?
Eli Manning plans to 'go by the book and keep it pretty simple'
Stella Artois posted all three Super Bowl ads featuring Eli Manning, Dan Marino, and Ryan Clark on YouTube, dubbing them "The Stella Substitutes." The ad featuring Manning shows him entering a bar in Las Vegas and surprising the bartender, Meg, with two tickets to the Super Bowl. He reveals that he will be taking over her shift that day, so Meg shows him the ropes. "I was not prepared the first day," Manning told FOX Business. "It was a little rough, it was a little heavy on the pour. I've had two weeks of practice, working on the pour, working on opening the Stella bottles." Manning told People that his strategy is to "keep it simple" behind the bar, making sure the beer gets into the glasses with minimal spillage and breakage. Time may soon tell if he's learned the right way to pour Stella Artois.
Although he may be a bit nervous about his shift, he told FOX Business that he is glad he can give the Super Bowl experience to a hardworking bartender during these tough times. "In a lot of ways, it's become like a holiday where you get together with friends, you get together family, and you get to enjoy this day. A lot of these restaurant workers and bartenders don't get to do that. They're working and they don't get to watch the game – they're hustling," he said.