What You Might Not Have Noticed About The Order In Kanye West's McDonald's Ad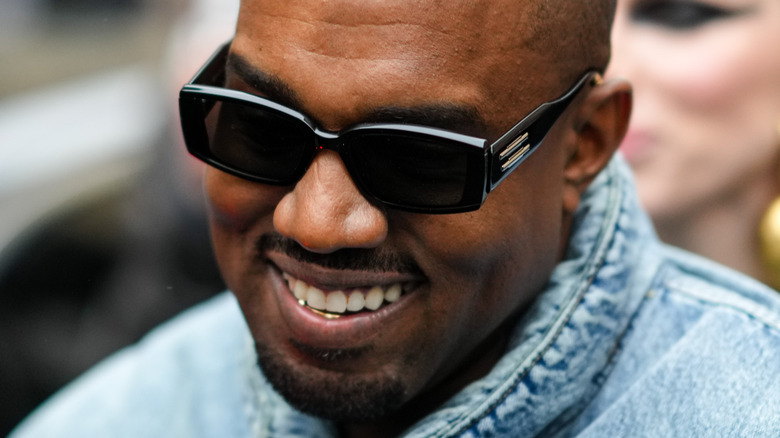 Edward Berthelot/Getty Images
In the 2022 McDonald's Super Bowl commercial, Kanye West pulls up to the chain's drive-thru in a black Sherp all-terrain vehicle and says in an auto-tuned drawl, "Can I get uhhhhhh" before the ad cuts away to another character (via YouTube). West, who legally changed his name to Ye last year, per NPR, has the exact same line as several other actors in the ad, which include full-time FIFA streamer Edwin Castro and NASCAR driver Bubba Wallace, says People. None of these customers are sure about what they want to eat by the time they reach the window, so we never get to find out what Ye, Castro, or Wallace would have ordered from McDonald's.
We do, however, hear back from very the first character in the commercial, a woman who says the obligatory "Hi, can I get uhhhhhh" before settling on a 10-piece order of chicken McNuggets. (The employee's follow-up question about what sauce she would like, of course, launches her back into a state of near-perpetual "uhhhhhh.") Though chicken nuggets are undoubtedly a common McDonald's order, they have a special connection to another actor in the Super Bowl ad: none other than Ye.
Kanye West is known to order nuggets from McDonald's
McDonalds' latest Super Bowl commercial pokes fun at just how hard it is make up your mind while ordering, which is why every character in the ad begins their interaction with the drive-thru employee by saying, "Can I get uhhhhhhhh." Though we never find out what an indecisive Ye would have ordered (and subsequently infused his Sherp ATV with the aroma of) that day, we can infer based on prior evidence. 
This year wasn't the first time that Ye — who once tweeted that McDonald's is his favorite restaurant — was associated with a McDonald's Super Bowl ad; his go-to McDonald's meal was featured in the chain's 2020 commercial titled "Famous Orders" (via YouTube). In the video, the Kanye West tray is filled with what looks like a whipped- cream-topped chocolate milkshake, french fries, three Tangy BBQ sauces, and six chicken McNuggets. We'd have to guess that his 2022 Super Bowl commercial order would have looked pretty similar to this one — perhaps with the addition of an apple pie. Per Ye's poem about McDonald's, titled "The McDonald's Man," the chain's apple pie is the only menu item that can hold a candle to its famous french fries.