The Most Important Baking Ingredients, According To Lizzie Acker - Exclusive
When it comes to baking, Lizzie Acker has one particular ingredient she absolutely can't live without. "I think ... if you haven't got flour, you're not baking, are you?" Acker said during a recent exclusive interview with Mashed. And really, the favorite "Great British Bake Off" contestant hit the nail on the head — after all, flour creates structure in baked goods and the gluten in it helps trap gasses that create texture, as noted by the blog Baker Bettie, which talks about the function of flour.
This staple ingredient has served Acker well and formed the basis of some of her favorite baked goods, like easy-breezy cinnamon rolls, focaccia, or her signature blondies in honor of Galentine's Day. The latter of these options relies on a mix of sugars, white chocolate, dried fruit, and yet another of Acker's top ingredients that she says will form an unforgettable treat. Yes, while flour might prove indispensable, this baker also swears by another aide that she uses in a variety of confections to lend that something special.
Acker's other favorite ingredient is vanilla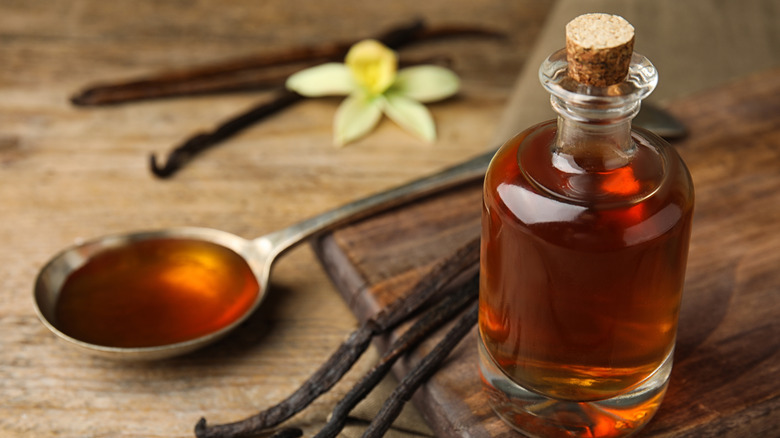 New Africa/Shutterstock
When it comes to imbuing sweet baked goods with the right flavor, Lizzie Acker always turns to vanilla as a way to spruce up any recipe. "Vanilla is up there because it's the Galentine's of every other recipe's flavor," she affirmed during an interview with Mashed, that occurred right before the February 13 holiday. "[Vanilla] supports so many. Even if you just add it to any other recipe, it elevates it. Lemon cake with vanilla, boom. Chocolate cake, add a bit of vanilla, boom. It makes everything so much better."
This ingredient's role makes perfect sense when creating sweet treats. The Kitchn compares vanilla in sweet baked goods to that of salt in traditional cooking — the one ingredient that will truly help bring out the recipe's other flavors. Vanilla extract proves extra successful in this purpose, as it contains the flavors of the seed and the pod, delivering an all-in-one option for home bakers.
Lizzie Acker's fascination with this ingredient even led to a partnership with Nielsen-Massey Vanillas, who teamed up with the "Great British Bake Off" participant to release her blondie recipe to the masses. While Acker's recipe was shared as a great Galentine's Day treat, it also works for any occasion. Keep an eye on Acker's Instagram for even more delectable ideas.