The Genius Way Trisha Yearwood Stores Butter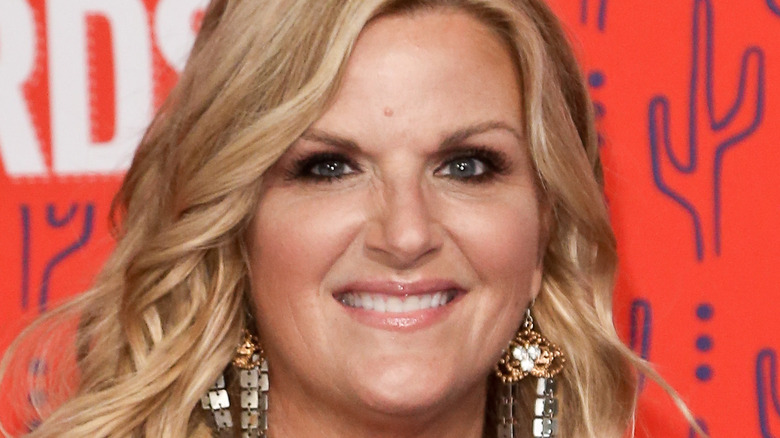 Debby Wong/Shutterstock
Every Saturday at noon, Trisha Yearwood invites Food Network viewers into her home for "Trisha's Southern Kitchen." Those who tune in regularly are well aware the show is filmed in her Tennessee house, which doubles as a TV studio, where she lives with her husband, Garth Brooks.
A video posted to the Delish Twitter account offers a glimpse into the space, divulging some of her secrets and sharing what Yearwood finds exciting about her show. For example, she has a specific cabinet where ingredients for the episode being filmed are stashed for easy access, and a second kitchen doubles as a prep space for the show. The Food Network chef also hides a small fan in a drawer of the kitchen island for when the set becomes too warm.
The country music star revealed her affinity for random miniature items in the video, too. If viewers watch the cooking show carefully, she explained, they can spot a tiny stand mixer that the crew hides in various locations around the set. "You'll find it tucked behind a book or behind a glass," she reveals.
Fans were thrilled at the opportunity to see inside the set. One commenter said "thanks for the tour and giving us a glimpse in your beautiful kitchen."
A kitchen secret that everyone might benefit from
The most unexpected secret revealed by Yearwood is not the hidden miniature mixer or the expertly-prepared pantry, rather, it's the drawer where she stores her butter, ensuring it's room temperature (via YouTube).
"I always need room-temperature butter for a recipe I'm making or a cake or just about anything," Yearwood states in the video. In fact, it was her friend and crew member Michelle who proposed the idea so the set would always be equipped with the necessary ingredients. Plus, the butter wrapper is ideal for greasing a pan or dish once the stick has been used, Yearwood explains.
According to Foodal, storing butter at room temperature is completely safe, as long as the butter stays covered. The cooking website says the butter will remain usable until it starts to smell and taste bad. Many cooks opt for a butter dish, but for Yearwood, who wants fans to cook with her, a drawer conceals the ingredient, grants her access for filming, and keeps the butter safely contained at an ideal temperature.