What A Michelin-Star Ham Sandwich Really Looks Like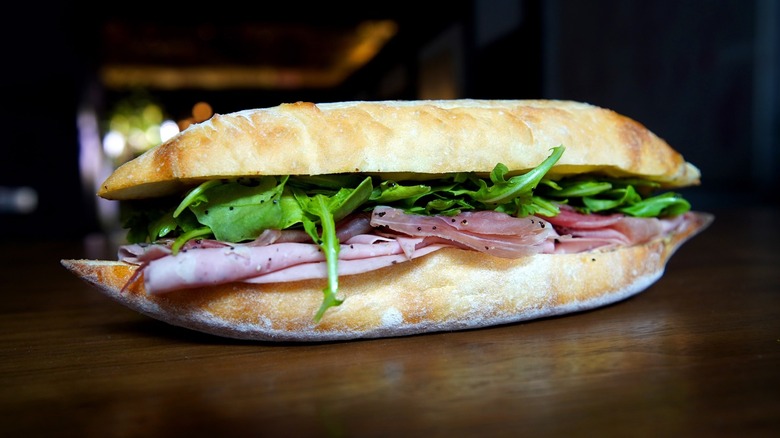 Oriole
You don't need fancy gadgets to make a rollickingly good ham sandwich; all you need are a few staple ingredients. Start with bread — be it a baguette, Wonder bread, freekeh, or ciabatta. Then, add the ham (options might be honey-baked, Virginia, or black forest, but really, any will do). Next, pile on the condiments — maybe you're in the mayonnaise-on-bread camp, or perhaps you gravitate towards another kind. (Fair warning: If you're making the sandwich for a Chicagoan, don't even daydream about using old-school ketchup.) Finally, put the concoction into a panino press and fry it like a Monte Cristo, or simply enjoy it at room temperature. 
The non-complicated ham sandwich — much like egg salad, BLTs, and turkey — is also a staple at delis and gas stations around the country, ready for you to bite into. So, why would something so ubiquitous, so easy to prepare, and containing relatively cheap raw materials need to be catapulted into the rarefied league of Michelin voters? The easy answer would be that some people will pay anything to be served a dish graced by the fingertips of highly-lauded chefs, especially if it's a highly-prized — though otherwise common — ingredient. For example, as noted by The New Yorker, a Wall Street eatery using a specially-marbled slab of cow on a standard-issue katsu sandwich has a pretty high price tag, even though good flavor is no guarantee. However, what if you could combine high quality and widespread appeal? That's where Chicago's Oriole restaurant comes into play.
There's nothing hammy about this sandwich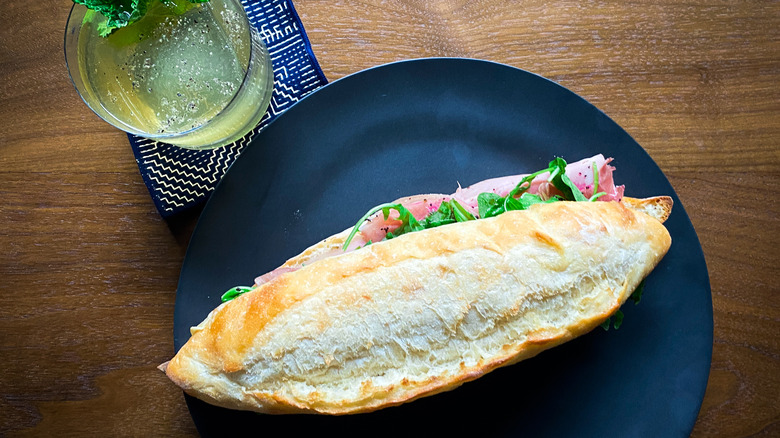 Oriole
Noah Sandoval is the head chef and owner of Oriole restaurant, located in the West Loop neighborhood of Chicago. A mere seventh months after its debut, the restaurant earned two Michelin stars, and it's nurtured those stars to this day, according to Eater Chicago.
At Oriole, Sandoval serves both his staff and hungry patrons a prized ham sandwich, availing of U.S.-produced ingredients where possible. His creation starts off with a pHlour Bakery baguette and adds Roelli raclette and a walnut mustard from importer Rare Tea Cellar, along with arugula dressed with a lemon poppyseed vinaigrette. For the pièce de résistance, he goes with Smoking Goose mortadella and Edwards Virginia Smokehouse country ham, from Indianapolis and Surry, Virginia, respectively.
In general, the tasting menu at this hotspot — with an average wait time of two months — might be upwards of $285 without tax and tip, but that doesn't mean Sandoval and his crew are simply another sheep in the pen. With posters of Leonard Cohen and Bad Brains on the kitchen ceiling and a lack of formal dress code, Oriole wants you to take in the ambience, be comfortable, and enjoy that aspect as much as you do the food itself. And with the sandwich going for only $20, it will surely be a (Michelin-) starry night to remember.