Why Mary Berg Believes In Breakfast For Dinner
What's for dinner? If you're like 79% of Americans, your answer might just be breakfast, according to a 2021 poll by The Harris Poll, sanctioned by General Mills (via Bake Mag). The same survey found that breakfast is the favorite meal of the day for 62% of people. Many say it's because the morning feast is fun and delicious and reminds them of their childhood. Everyone has their own preferences for their breakfast (or rather, their dinner) of choice, too. There are those who like something savory, whether it's a plate of scrambled eggs, a few slices of avocado toast, or a hash brown scramble with bacon and cheese. Then there are those who prefer something sweet, like a fluffy Belgian waffle topped with whipped cream, or a bowl of oatmeal and brown sugar, or a pile of pancakes doused in maple syrup.
No matter your dish of choice, there's no denying that breakfast for dinner has a special place in many of our hearts. Even culinary star Mary Berg is a big fan. The winner of "MasterChef Canada" and current host of "Mary's Kitchen Crush" confessed to the Toronto Star that one of her go-to dinners is actually not dinner at all — it's breakfast. Here's why, along with her favorite thing to whip up when she's craving a little comfort food at nighttime.
Who doesn't love a good home-cooked breakfast at any time of day?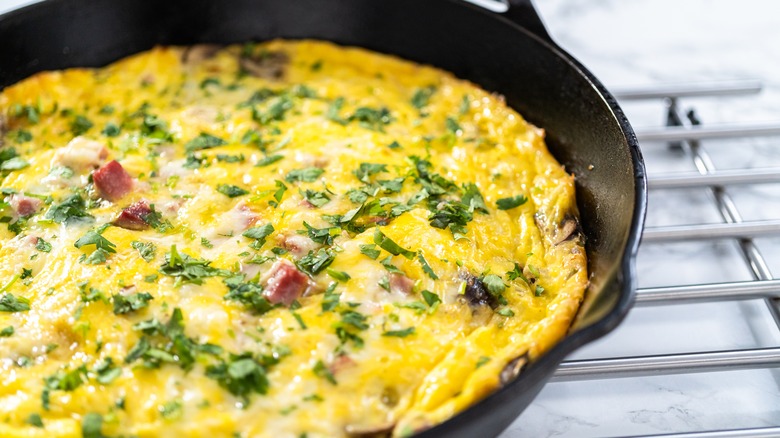 Arina P Habich/Shutterstock
As proven by her win on Season 3 of "MasterChef Canada," Mary Berg is a whiz in the kitchen, and she's no stranger to whipping up a gourmet meal. However, extravagant dishes aren't what she considers her most impressive showing. Instead, she swears by serving breakfast for dinner. "Breakfast is unassuming and immediately relaxing. Everybody loves it," she explained in an interview with the Toronto Star. "And eggs are the one thing that always seem so much better when someone else cooks them for you." She's shared her breakfast for dinner obsession before on her show "Mary's Kitchen Crush," where she's served up mouthwatering morning-inspired treats like stuffed French toast, breakfast sausage, and cereal milkshakes (via Facebook).
However, Mary's favorite breakfast for dinner dish is a simple frittata. Whether you're having a delicious meal for one or cooking for date night in, she told the Toronto Star that a frittata is a great (and impressive-looking) way to get creative while simultaneously using up leftover veggies, meat, and cheese. "If the date doesn't go well, at least you'll have cleaned out your fridge," she joked to the publication.