The Most Popular Wedding Cake Flavor Is Just What You'd Expect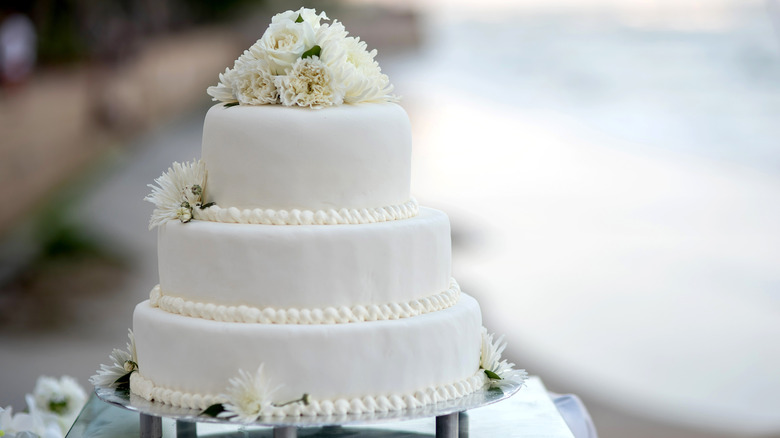 Pupae/Shutterstock
Almost half of engaged couples wait 13 to 18 months between getting down on one knee and walking down the aisle, according to Wedding Paper Divas (via HuffPost). Considering the amount of planning, money, and time it takes to pull off a wedding — 40% of couples said they spent an average of 10 to 15 hours per week doing wedding tasks — it's understandable why some love birds need many months to get everything "I do" ready. Plus, many wedding to-dos have to be done well in advance, such as choosing a venue and catering, selecting colors, wedding dress and bridesmaid dress shopping, and so on. 
There's one other very important item to plan ahead of time — choosing a wedding cake. Although many people enjoy the typical process of sampling cake flavors and sipping flutes of champagne, wedding cakes should be picked and ordered four to six months in advance, per All Things Cake's recommendations. However, if your nuptials are during the height of wedding season in May, June, or October, the blog strongly recommends ordering the cake at least six months out. 
But how do you choose a cake flavor you and much of your party will love? Stick with what's most popular.
This flavor has held the title for more than 60 years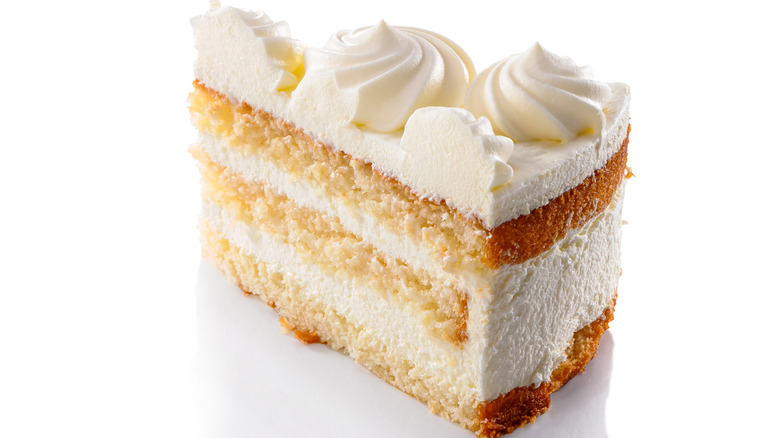 art nick/Shutterstock
While picking out your wedding cake can be a fun and delicious experience, it can also be a tad overwhelming. It's understandable if you and your partner prefer your two favorite cake flavors, or perhaps one with ingredients that are in season at the time of your wedding — which would be very Meghan Markle of you. But, you also have to keep in mind your guests' tastes, and you probably don't want to waste food or money. So, what do you do?
Opting for the most popular wedding cake flavor seems like a safe choice. And according to a wedding cake survey done by The Black Tux, vanilla has been the most common since at least 1960. This doesn't mean its popularity hasn't decreased over the years. While data shows that 31-48% of couples who wed between 1960 to 2010 served vanilla cake, that stat dropped to 26% in the last decade. Additionally, chocolate and red velvet both gained ground since 2010 — passing yellow cake — proving that modern couples are open to more variety. But vanilla has held the title for six decades in a row, which isn't too surprising — and here's why.
Vanilla is basic, but not boring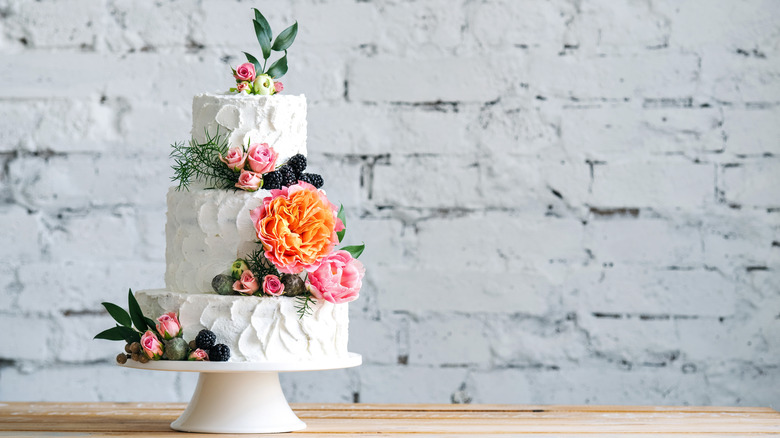 Melnikov Sergey/Shutterstock
In a Martha Stewart Weddings article titled "25 Vanilla Weddings Cakes That Are Anything But Boring," the party planning and food mogul's magazine preached how vanilla cakes can both feel and taste contemporary while offering the most options. Vanilla can fit into pretty much any cake vision, decor and color scheme, and palette. If you like the idea of vanilla flavoring, but not the appearance of a vanilla cake, Stewart's article recommends covering the cake with a confection color. You can also add decor, embellishments, or edible arrangements (flowers, leafs, or crystals) to dress it up more.
That being said, you can also dress up the inside of a vanilla wedding cake with bold, rich fillings, Emily Lael Aumiller, a Brooklyn-based wedding cake baker, told The Knot. "We offer light cakes but pair them with more bright unique fillings like our vanilla cake with caramelized peaches and vanilla bean icing," she said. It's still a vanilla cake but you're also offering guests an additional flavor without going overboard. If they aren't a fan of the filling, they can eat around it. Plus, it still gives your wedding cake a traditional feel and style, if that's an element you're after. 
No wonder vanilla is still the most popular.