The Unexpected Ingredient Wolfgang Puck Puts In His Macaroni And Cheese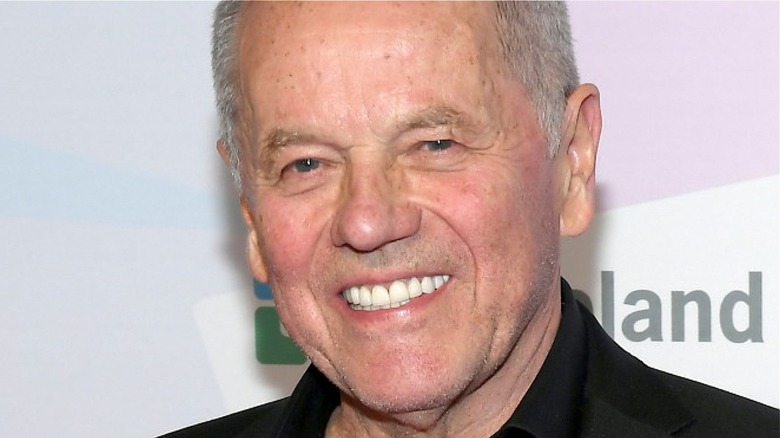 Bryan Steffy/Getty
From a young age, celebrity chef Wolfgang Puck has never taken the easy way out to making delicious foods. His first food memory is of his mother's hot chocolate — but this was no quick packet-of-powder recipe. "It could take hours," he said, to wait for his mother to milk the cow, skim the milk, temper the chocolate, and assemble the final drink (via Luxury London).
And amid all the branded cookware, restaurant outposts, and frozen meals on the market today, it might be easy to forget where Puck's original skills lie: In the kitchen. His first restaurant, Spago, was a smash hit when it opened in the early '80s and, although Spago lost its Michelin stars, has attracted some of Hollywood's biggest celebrities to eat in its innovative open kitchen.
Apart from the A-list clientele at his restaurants, he's also become famous in Hollywood for his annual gig catering the Oscars. At the awards ceremony, some of his most popular menu items are twists on comfort foods, from chicken pot pie to macaroni and cheese.
Puck's mac and cheese is beloved by celebrities and home diners alike — and turns out, his personal recipe calls for a surprising ingredient to make it turn out so well.
TikTok is in awe of Puck's surprising mac and cheese ingredient
In a recent TikTok video, celebrity chef Wolfgang Puck revealed the ingredient that puts an unexpected twist on the classic macaroni and cheese: Carrots. The vegetable adds color — "and you get a few vitamins," Puck said in the video.
The bright vegetable isn't the only unique aspect of Puck's recipe. Instead of assembling the sauce over the stove, Puck uses his blender to not only combine the ingredients but also heat the sauce with the friction of the blade. And rather than creating a butter-and-flour roux to thicken the sauce, as many traditional homestyle mac and cheese recipes use, Puck added bread, along with parmesan and cheddar cheeses.
Puck's TikTok recipe has been viewed more than 600,000 times, and commenters were in awe of his innovations on a classic. "I've been after a good cheese sauce! Would never have thought to use the blender! Thanks Wolfgang," one user wrote. Another commented, "I would never have imagined carrots going into Mac, now I wanna try this out!"
The chef himself joined the comment section, pointing out that you can't really taste the carrots; they just make the sauce brighter in color. So next time you're craving a comfort food classic, this recipe is a celebrity chef-approved way to trick your family into eating more veggies!