Reddit Approves Of This Trader Joe's 'New Items' Selection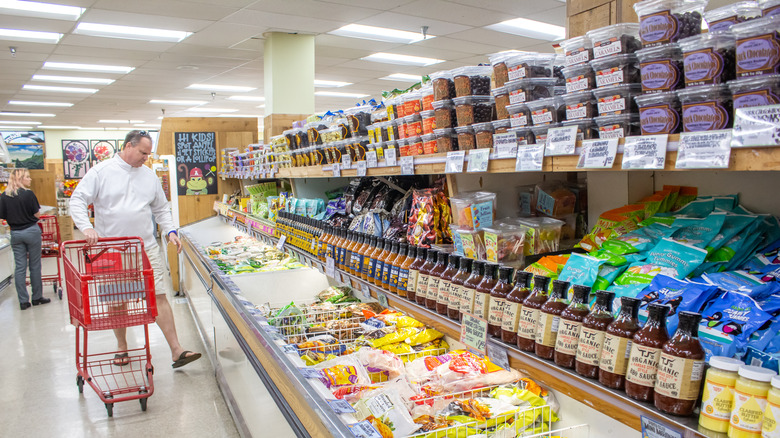 TonelsonProductions/Shutterstock
Trader Joe's shoppers love it when their favorite retailer drops a new item. One of the reasons the chain has earned its cult following (besides their friendly staff and inexpensive wine, of course) is although its stores are small, their "curated" approach seems to tap into what their customers are craving, experts tell CNBC. Plus, with the chain's low price points, trying new items is a low-risk venture. So we weren't surprised when Redditor mishmash43 took to the r/traderjoes subreddit to post a pic of a display of new items from their local Trader Joe's. There's a lot to unpack, and a few fans of the chain's chocolate items seemed especially eager to unpack those.
The assortment of chocolatey options included Dark Chocolate Almond Butter Filled Pretzel Nuggets (a variation of Trader Joe's Almond Butter Filled Pretzel Nuggets) for $3.49 as well as TJ's new Peanut Butter Cocoa Marshmallows ($3.99). Trader Joe's February "Fearless Flyer" newsletter describes the latter as "cocoa-infused marshmallows" that have a "candy shell-like peanut butter coating" and a drizzle of chocolate. Redditors liked this multi-textured take on the humble marshmallow. "Sofa king good," said one member of the subreddit. Another highly recommended them for hot chocolate. "Stock up on the marshmallows before they run out... you won't regret it," one Redditor opined. Another new cocoa-y treat is Bamba Dipped in Dark Chocolate ($2.99). A spinoff of TJ's original peanut butter Bamba puffs, this incarnation is "half-dipped in smooth, semi-sweet chocolate" (via the Trader Joe's website).
Chocolate is showing up all over Trader Joe's
The Monrovia, CA-based Trader Joe's has been busy with the chocolate this month (it is February after all), as evidenced in mishmash43's Reddit post. A commenter endorsed the Chocolate Crêpe Wafer Cookies and confessed to eating half the package on the way home. (Who hasn't done something like that?)  Trader Joe's new Cocoa & Sea Salt Instant Oatmeal ($2.99) inspired excitement for some. However, while chocolate and sea salt might make great ice cream flavors, not everyone agreed that the combination translates into a good breakfast cereal. "Mushy cocoa pebbles," commented one disappointed shopper, although one follower said they enjoy it with sliced almonds and coconut flakes for an "almond-joy themed snack."
New savory items include Organic Fusilli Corti Bucati, ("bucati" means "with hole," and there is one down the center of these pasta spirals!), which one Redditor said made great macaroni and cheese. There are also new salsa, some sauces, coffee, a muffin mix, and even new doggie treats. Interestingly, it seems that even Trader Joe's, known for its low prices, isn't immune from inflation. A Redditor noted that in the display photo, no items were below $3.00. "I have been a long time customer and have seen the prices slowly inch up and up!" they wrote. Still, another user said that at $3.49, the new Date Syrup pictured in the post was a major bargain. They had recently paid $8 for a similar bottle at Whole Foods.