This Is Why Chipotle Resisted Drive-Thru Service For So Long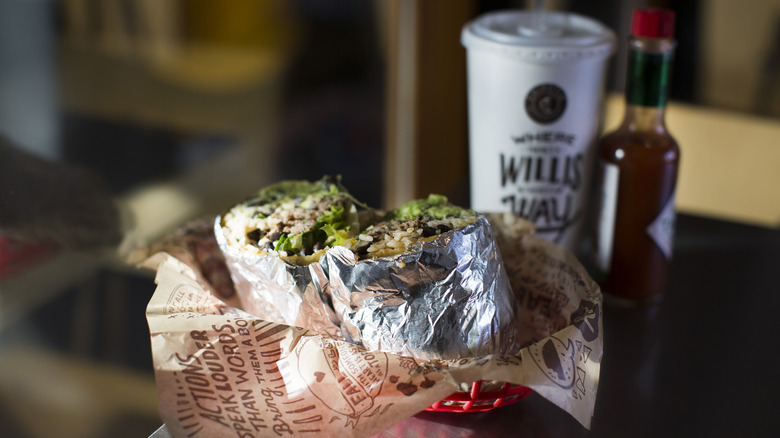 Bloomberg/Getty Images
In a time when restaurants with closed dining rooms are commonplace and convenience is becoming an even larger priority (via CNN), one might expect the drive-thru to be an integral part of nearly every fast restaurant chain. But some large chains are still stragglers to the idea of drive-thru service — one of them being Chipotle. Considering how popular the Mexican food chain's bowls, burritos, and other menu items are, one might think that adding the benefits of drive-thru service — including customer convenience and increased revenue, per QSR — would be a no-brainer.
Although Chipotle hasn't gone on the record announcing plans to transform most locations into drive-thrus, the company, after nearly 30 years in business, has finally been taking slow, careful steps to integrate them into its business model. In February 2019, 10 drive-thru Chipotles were open (via Restaurant Business), with that number jumping to around 300 "Chipotlanes" in December 2021 (via QSR). But even if Chipotle is adopting the drive-thru, what took so long?
Chipotle wanted drive-thrus to offer food customization
As it turns out, the food itself is one of the key reasons why Chipotle was so hesitant to adopt a drive-thru-focused model. Much of Chipotle's success is based on customers seeing the chain's "food with integrity" inside the restaurants and customizing their order how they want it, Investopedia notes. In a drive-thru model, you can't see all the ingredients firsthand. Chipotle CEO Steve Ells admitted in 2014 (via Business Insider) that the company considered drive-thrus and wouldn't rule them out in the future, but noted that "part of what customers love is the ability to customize...and a drive-through distances them from that."
What separates Chipotle's drive-thru model from places like McDonald's is that they're only open to customers who ordered through the mobile app, QSR notes. The app allows them to customize their orders as they would inside a restaurant, addressing previous company concerns. Then they pay and choose a pick-up time, head to a "Chipotlane" drive-thru, and grab their order as soon as they arrive at the window. 
An Ohio Chipotle, dubbed the Chipotle Digital Kitchen, streamlines this process by being digital-order and drive-thru or walk-up only. According to Nation's Restaurant News, there is no dining room or anywhere to eat inside. The kitchen is built solely around preparing orders logged through the mobile app — and customers can customize their food.