Walmart Is Selling An Apple Jacks-Filled Bunny For Easter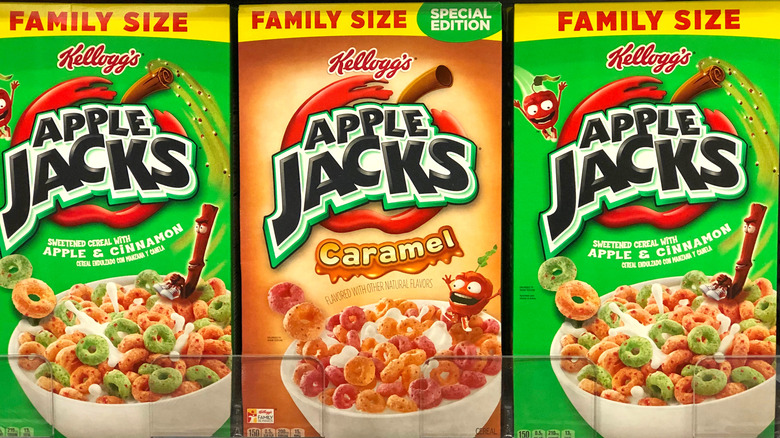 Sheila Fitzgerald/Shutterstock
Brace yourselves: Eggs, chicks, bunnies, and candies in shades of pastels are here and it's time for all-things-Easter to reign on supermarket shelves. From now until Easter Sunday on April 17, it's going to be challenging to visit a grocery store without walking out with a sizeable stash of Easter candy. And if you think that you have the willpower to do otherwise, it's likely that the news of all the stops that candy makers are pulling out this year has yet to reach your ears.
Hershey's has unleashed Cookies 'n' Creme white creme eggs with pastel cookie bits inside, and Twizzlers is selling cherry-flavored candies in the shape of little bunnies. Then, there's the annual event of the Peeps, those marshmallow candy-coated pastel chicks and bunnies.
If these aren't enough to dwindle down your no-candy resolve, the return of cereal-filled Easter bunnies might just be it. According to Best Products, Walmart is already selling an Apple Jacks-filled Easter bunny and you have until at least April 17 to get your hands on it.
The Apple Jacks-filled bunny is being sold at Walmart for a limited time
Per Best Products, the 1.6-ounce Frankford Kellogg's Apple Jacks Cereal 'N Candy Bunny is being sold at Walmart for one dollar and happens to be more of a candy than your usual chocolate bunny. Frankford reports that the bunny-shaped treat is made from white candy that is sprinkled with Apple Jacks cereal and has "sweet & savory apple cinnamon flavors." The Apple Jacks bunny is likely to only be around through Easter, but believe it or not, this isn't the only cereal-filled candy on the shelves this spring season.
Frankford has collaborated with several more breakfast classics to add them to their candy bunnies. Also on offer are milk chocolate bunnies filled with  Rice Krispies Cereal, made by Kellogg's, as well as a bunny-shaped cereal milk-flavored white candy bar mixed with pieces of Post's Fruity Pebbles. Per the brand's Instagram page, there's also a milk chocolate and Cocoa Pebbles version of the cereal-filled bunny.
You could save the cereal-filled bunnies as the grand prize for an Easter egg hunt or add them as showstoppers to an Easter basket, but it seems like cereal and milk has an entirely new (and chocolate-y) meaning this Easter.