Instagram Has Mixed Feelings About Martha Stewart's Hangout With The Kardashians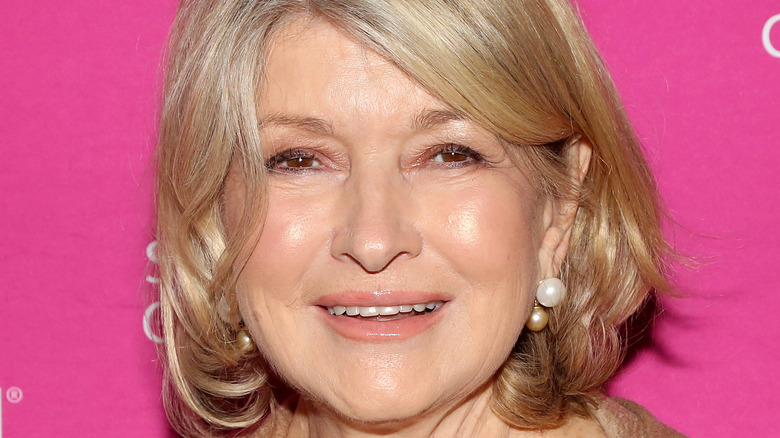 Bruce Glikas/Getty
If you ever find yourself wondering what your favorite celebs are up to when they're not acting on the big screen or rocking out on stage, just head to Martha Stewart's Instagram account, as there's a decent chance you may see a picture of them on her feed. In fact, she seems to have more star encounters than the paparazzi, and never misses the chance to snag a photo with the VIPs for her page. Some of the most recent cameos on her account? Rapper Drake, former "Saturday Night Live" cast member Tracy Morgan, and musician Justin Bieber, whom the homemaker gave a sweet birthday shoutout earlier this week.
As you can see, you can never really know what to expect from Stewart when she logs on to the social media platform, and yesterday was no different. The cookbook author had her followers buzzing after curating not one, but two separate posts revealing that she had attended a star-studded lunch with a few members of the infamous Kardashian-Jenner clan. The first Instagram update contained a group shot of all seven of the meal's attendees, while the second Instagram post featured a trio of photos that saw Stewart posing alongside the famous family's matriarch and third-eldest daughter.
"Wow! House call to [Kris Jenner] and daughter [Khloé Kardashian] their new homes are so beautiful, the gardens lush, and the hospitality outstanding," Stewart captioned the update. "We had fun talking business and peacocks!" she added.
Some fans were disappointed by Martha Stewart's friendship with the Kardashians
Fans of Martha Stewart are generally delighted to learn about her celeb run-ins on Instagram, which followers often respond to with hearts. And, at first glance, the posts from her lunch with Kris Jenner and Khloé Kardashian on Wednesday may seemed like they followed suit, as the duo of updates amassed a combined 120,000-plus likes at the time of this writing. The comments sections, however, tells a different story. Many criticized Stewart's star-studded lunch, which one follower deemed "a low point" for the former "Chopped" judge (via Instagram).
"Too bad you're even associated with them," Instagram user @thepawlowskis commented. "I'd rather see the gardens than these weird selfies," said another fan. Others took issue with the ladies' appearances, which many perceived to have been doctored up using editing software. "Is there a filter? They all look strange. Just why?" user @elaineagnes2 asked.
Still, not everybody in the comments section reacted negatively to Stewart's hangout with the reality television stars. "You all look gorgeous!" one follower wrote, while another said that Stewart, Jenner, and Kardashian were "the trio I didn't know I needed."
Regardless of the backlash from fans, the ladies appeared to have enjoyed their afternoon together, as demonstrated by a comment from Jenner on the first of Stewart's Instagram posts from the day. "Best day EVER with the QUEEN!!! What a magical time with you beautiful Martha!!!!" she said.