Fans Are Loving Martha Stewart And Tracy Morgan's Super Bowl Picture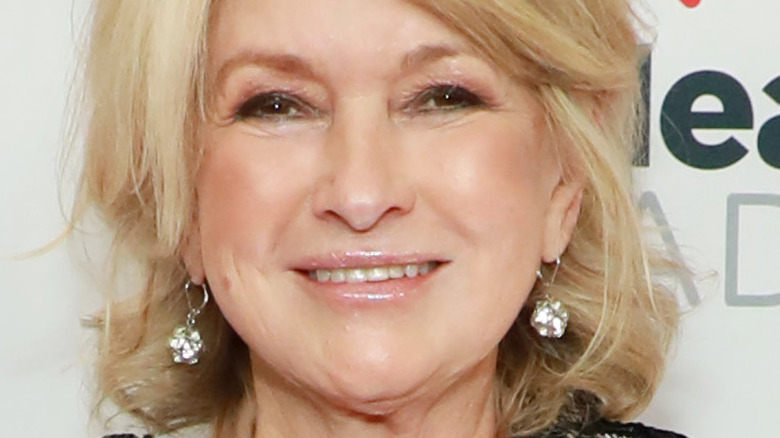 Jason Mendez/Getty Images
After last year's pandemic-dampened Super Bowl — the lowest-attended NFL championship game ever, per CBS Sports — the 2022 Super Bowl was played in front of a sold-out stadium crowd. According to The SportsRush, 70,240 people flocked to SoFi Stadium in Los Angeles on February 13 to watch Matthew Stafford and the L.A. Rams take on the Cincinnati Bengals for Super Bowl LVI. Nestled amongst the sea of jersey-wearing fans on both sides were several celebrities — including Martha Stewart, who had an Instagram-worthy run-in with another famous figure that has generated some serious internet buzz.
Taking to her Instagram account on Sunday evening, the 80-year-old homemaking maven (who was presumably at the game at least in part to support her longtime pal and Puppy Bowl co-host Snoop Dogg during the Super Bowl LVI halftime show) delighted followers with a snap of her posing with her seat neighbor, former "Saturday Night Live" cast member Tracy Morgan. "You never know who will be sitting next to you at the super bowl!!!" Stewart captioned the post that her fans can't seem to get enough of.
Stewart ran into a number of celebs during Super Bowl weekend
You never know what you're going to see when scrolling through Martha Stewart's Instagram page. One day, it may be a video of Stewart's mechanical squirrel, while another may present you with a few snaps of the television host's chickens. This weekend, fans venturing to Stewart's corner of the internet were treated to a human cameo from Tracy Morgan, who posed with her for a photo that has amassed nearly 200,000 comments as of this writing.
"Two of my all-time favorite humans," one person commented. "Y'all stay out of trouble!!!!!" another follower teased. For a third fan, Stewart and Morgan's Super Bowl picture appeared to be one of the best parts of the night. "The only Superbowl content I need," they said. Meanwhile, several other followers took the opportunity to shower Stewart with compliments, including Instagram user @mcinthegueshouse, who said the former "Chopped" judge was "the coolest." Morgan was one of many famous faces that made an appearance on Stewart's Instagram page during Super Bowl weekend. After touching down in L.A. on Saturday, the celebrity chef headed to dinner at celeb hot spot Matsuhisa in Beverly Hills, where she snapped a few photos with Drake (via Instagram). Stewart even had a meetup with Guy Fieri at the game.