How Chrissy Teigen Inspired Taco Bell's At-Home Taco Bar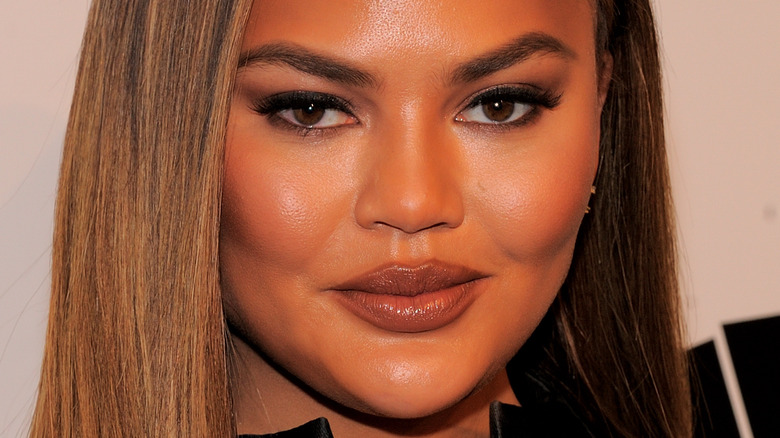 Ron Adar/Shutterstock
Chrissy Teigen is a well-known fan of the taco. She even ordered up some Taco Bell for the "Fablife Show" cast to mark Taco Tuesday, taking to Instagram to share a table covered in Taco Bell food wrappers, sauces, and more. The "Fablife Show" reposted Teigen, "It's #TacoTuesday! This is what happens when @chrissyteigen orders lunch on #FABLifeShow #Repost @chrissyteigen ・・・lunch on me. LITERALLY AAHAAHAHAHHAAHAHHHAHAHA I'LL BE HERE ALL NIGHT KIDS." It looked pretty epic. But this is all to say the "Cravings" founder has her passions and tacos that taste yummy are part of that equation.
In fact, Teigen made a business suggestion to the Mexican food-inspired fast food chain back in 2019. She famously took to Twitter to respectfully and politely suggest, "@tacobell you guys should deliver your taco meat separate from the shell so I can build it myself, thus preventing soggy tacos. I like to spread out the duration in which I eat them, sometimes I can take hours. thank u." When you are a supermodel foodie married to artist and musician John Legend, we imagine your voice — along with your number of followers — goes a long way with a brand like Taco Bell, because sure enough, the chain acknowledged how Teigen inspired Taco Bell's delicious At Home Taco Bar.
Taco Bell acknowledged Chrissy Teigen's role
In May 2020, Taco Bell launched their At Home Taco Bar to mark Cinco de Mayo. Per PR Newswire, The At Home Taco Bar "comes deconstructed, packed and sealed for an easy and safe way to feed a party of 6"  and comes with all the fillings, toppings, crunchy, and soft shells you need to have a DIY Taco Bell taco in the comfort of your own home. But the company also took to Twitter to revisit Chrissy Teigen's suggestion and give credit where credit is due, writing, "@chrissyteigen It only took us a year, but girl we did it. The At-Home Taco Bar is officially here, so you can now enjoy your tacos for hours (no soggies)."
Teigen was quick to retweet, typing this simple but hilarious reply: "when u have power but for free @tacobell." Teigen's response received more than 154,000 likes and even John Legend added his voice to the conversation, tweeting, "Haha. We need to talk about this consulting fee, @tacobell." Indeed! We don't know if Teigen was ever formally compensated, but if so, we hope it consisted of a lifetime supply of free At Home Taco Bar kits.