How The Food Professionals Of #Cookforukraine Are Helping Displaced Families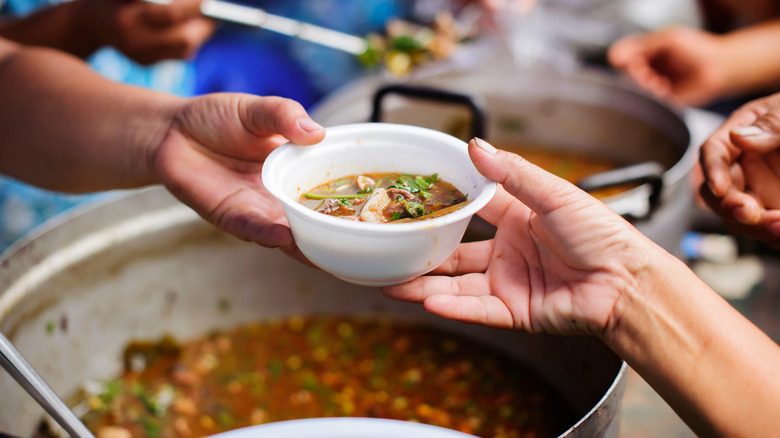 addkm/Shutterstock
#CookForSYRIA started a movement years ago that showed the world that a little bit of food could go a long way in actually making a difference in the real world. The concept was simple: Host a meal or potluck for friends and family with a menu inspired by Syrian food, and request that your guests donate to the Unicef fundraiser that helps Syrian children.
The founders of #CookForSYRIA — Clerkenwell Boy & Unicef's NEXTGen London — who raised over $1 million through bake sales, cookbooks, and their supper clubs, have teamed up once again. This time joining forces with Russian-born food writer Alissa Timoshkina and Ukrainian-born food writer Olia Hercules, this new campaign is calling on people to #CookForUkraine.
The mission, according to JustGiving, is not just to raise relief funds for displaced Ukrainian families and children, but also to spread awareness of the ongoing conflict and show support and solidarity for the war-torn country. "Let's cook for peace, for freedom, for truth, for common sense, for rational thought, and for love," urges Timoshkina. The hope is for fellow food writers, renowned chefs, restaurant owners, and average citizens to all hear the call for action, come together, and show support for displaced Ukrainians one challah bread, cabbage pie, and apple cake at a time.
There are different ways to aid the #CookForUkraine campaign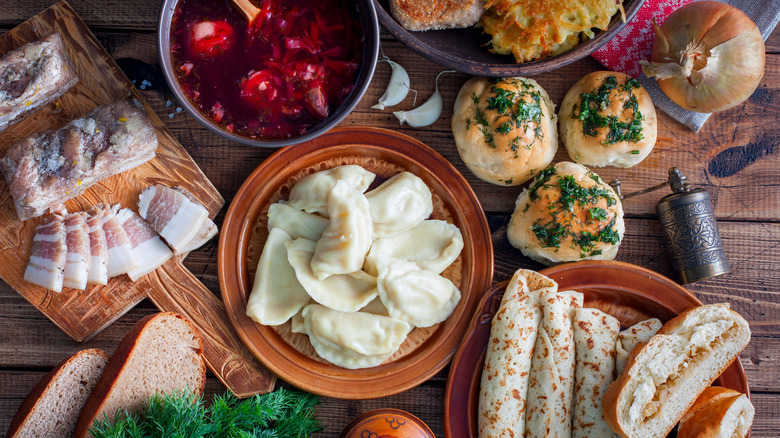 A. Zhuravleva/Shutterstock
Per JustGiving, there are several ways to be a part of the #CookForUkraine campaign. Aside from simply donating some money on the page, people can host supper clubs or bake sales, serve up a Ukrainian feast and urge attendees to donate on the fundraiser page in return. There's also the option of cooking a Ukrainian dish yourself and sharing a picture of it on social media with the #CookForUkraine hashtag. The page even has a helpful set of links to famous Ukrainian dishes courtesy of Alissa Timoshkina, Olia Hercules, and their friends.
Restaurant owners can be a part of the campaign by adding a voluntary donation fee of about £1 (around $1.32), £2 (about $2.64), or £5 (about $6.60) to their bills in the month of March, all proceeds of which go to Unicef UK's Ukraine appeal. The British online wine delivery site Vinoteca recently tweeted that it would introduce the voluntary £1 fee. Ottawa-based restaurants Cantina Gia and North and Navy are also fundraising for #CookForUkraine, as tweeted by Bruce Anderson.
Such efforts arguably form part of a larger food-minded movement. Though not related to the #CookForUkraine campaign, José Andrés and World Central Kitchen have been cooking for Ukrainians, serving hot meals to displaced people arriving in Poland and Romania (via Food & Wine). Chef Andrés' organization is also working with restaurants and chefs inside Ukraine to feed anybody in need of a meal.