The 2022 Baby Formula Recall Was Just Expanded. Here's What We Know So Far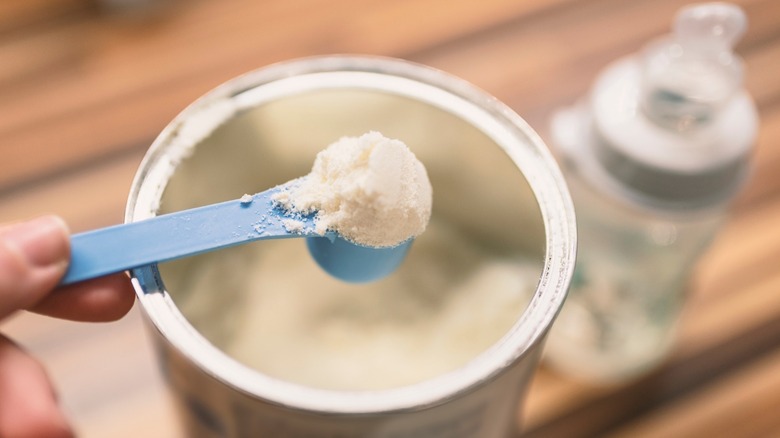 Dragana Gordic/Shutterstock
The 2022 baby formula recall has taken an unfortunate turn as more products are being pulled from shelves. Mashed reported on the initial recall in February, when the FDA issued a recall notice for certain baby formulas made by Abbott Nutrition, including brands Elecare, Alimentum, and Similac, which had been produced in Sturgis, Michigan, due to the potential presence of salmonella and/or cronobacter sakazakii. According to Taste of Home, consumers were advised not to use baby formula whose containers were marked as follows: "The first two digits of the code are 22 through 37; The code on the container contains K8, SH, or Z2; The expiration date is 4-1-2022 (APR 2022) or later." 
Shortly thereafter, the recall was expanded and now includes Similac PM 60/40 with Lot #27032K80 (can) and Lot #27032K800 (case). The additional recall comes after an infant that consumed formula from one of these lots was infected with cronobactor sakazakii and died (via Abbott press release). In total, the FDA reports that use of the affected formulas may have contributed to five hospitalizations and two deaths.
What to look out for
Naturally, parents are concerned. They are advised to check to see if their formula has been affected by checking the codes, lot numbers, and expiration dates, but also by going to the manufacturer's website to enter this information and determine if the product they purchased is part of the recall. 
It's also wise to be aware of the effects of these two bacteria and the symptoms they can cause. Cronobacter sakazakii infection can result in sepsis or meningitis, symptoms of which may include poor feeding, temperature changes, grunting breaths, jaundice, and abnormal movements' while salmonella infection can cause gastrointestinal issues. This is not an exhaustive list of symptoms, and the FDA advises parents and caretakers who notice such symptoms or are otherwise concerned about the health of their children to contact a medical professional immediately. The organization also advises against diluting formula or using a homemade variety, and, according to FDA Deputy Commissioner for Food and Policy Response Frank Yiannas, the FDA is "working diligently with [its] partners to investigate complaints related to these products."
Consumers with questions can contact Similac at 1-800-986-8540 (via Taste of Home).