Want To Work With Duff Goldman? Here's Your Chance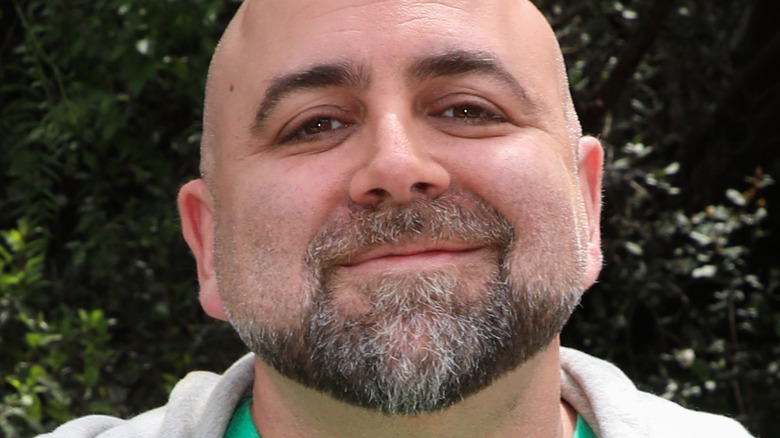 Paul Archuleta/Getty Images
Baking is uber-popular – as evidenced by the vast number of people who can't stop watching baking shows like "Nailed It!," "The Great British Bake Off," and the spinoff of GBBO that no one saw coming. With that in mind, if you have ever fantasized about finessing your own baking skills by working for or with one of the all-time most prestigious celebrity baking pros, you might be surprised to learn that fantasy could actually become a reality for a lucky few baking aspirants.
Celebrity chef, baker extraordinaire, and doting dad of freshly baked Baby Josephine, Duff Goldman has just taken to Instagram to announce that his famous Baltimore-based bakery, Charm City Cakes, is currently hiring for "multiple Baltimore-based jobs." Even more exciting is the fact that the jobs Goldman is looking to fill are the positions of "Cake Decorator" and "Cake Decorating Class Instructor." In other words, these are jobs that appear to offer an opportunity to work directly and creatively with cake, frosting, fondant, if not with Duff Goldman himself, although one can always hope.  
So, clearly, this is a big deal and one you won't want to miss if you've been honing your baking skills throughout the pandemic and think you might now be ready to give professional baking a try (or if you're already a professional baker and think you and Duff Goldman might pair well together as colleagues). But how does one make use of this serendipitous opportunity?
If you've got the talent, Duff Goldman may have a cake decorating job for you
On Saturday, March 5, celebrity chef Duff Goldman put the word out via Instagram, that his famed Baltimore bakery, Charm City Cakes, is hiring for "multiple" positions, including Cake Decorator and Cake Decorating Class Instructor. He also referred interested parties to a page on Charm City Cakes' website for further info. 
"We need an exceptional cake decorator to help make our wildest cake dreams into awesome (and edible) realities," the page states of the Cake Decorator job. "This person will work with our team on designing, engineering, and creating one-of-a-kind cakes." A commitment of at least 24 hours per week is expected, and clearly, this job is for someone who is already exceptional at cake decorating. In fact, worthy decorated baked goods may end up featured on Goldman's website or social media accounts.
While the "Cake Decorating Class Instructor" position may or may not lead to one's cakes going viral, it's still very exciting as far as bakery jobs go. Requiring anywhere from 4 to 16 hours per week, its responsibilities include teaching and otherwise "leading cake and cupcake decorating classes for adults and children," as well as fielding "questions about Charm City Cakes and Duff." We wish we could reveal the pay being offered, but that information has not been publicly released as yet.