Here's What Happened To Mango Mango After Shark Tank
It's been said that every cloud has a silver lining, that rejection is a blessing in disguise, and that when one door closes, another door opens. The friends and founders of Virginia-based preserves empire Mango Mango might well agree with those sentiments.
You might remember Mango Mango founders Lakesha Brown-Renfro, Nzinga Teule-Hekima, and Tanecia Willis from their appearance on "Shark Tank" (Season 5, Episode 2, per Shark Tank Tales). Their pitch to the Sharks included a request of $75,0000 for a 20% share of their business (per the Shark Tank Blog). They plied the superstar investors with sweet and savory samples of dishes made with their gourmet preserves, which they call "a party in a jar." The product grew out of their event planning business, Simply Panache. They even serenaded the Sharks with their jingle: "Spread it! Mix it! Shake It! Stir it" (via YouTube)!
The Sharks didn't bite, but Mango Mango's business got an immediate and lasting boost as a result of the national exposure. That experience is reflective of what is known as the "Shark Tank" bump, per Inc.
Mango Mango enjoys sweet success after Shark Tank
The first thing that happened to Mango Mango after "Shark Tank" is that the orders poured in: 15,000 of them in 48 hours, for starters. That equates to about $300,000 in sales (per YouTube). The preserves also found an appreciative audience on QVC. "We sold out on QVC five times," co-founder Lakesha Brown-Renfro said. The preserves have gone from local farmers' markets to specialty shops nationwide and the shelves at mid-Atlantic Whole Foods stores, per Mango Mangeaux.
With sales in excess of $1 million, the "Mango Mango ladies" took the advice of the Sharks to invest in their dream of expansion. They now oversee "a little Mango empire" in Hampton, including a production facility, restaurant, spa, event space, lounge, and boutique hotel, per YouTube. "In all of our businesses, you can actually have a hint of our mango preserves," Brown-Renfro said.
At Mango Mangeaux, the company's cleverly named restaurant, the preserves get star treatment in menu items such as mango Mimosas, chicken fried French toast with a dollop of mango butter, and Chesapeake Benedict: biscuits topped with fried green tomatoes, poached eggs, crabmeat, and Cajun Hollandaise sauce, served with Mango Mango fruit dip (per Instagram).
Mango Mango's founders give back to their community, too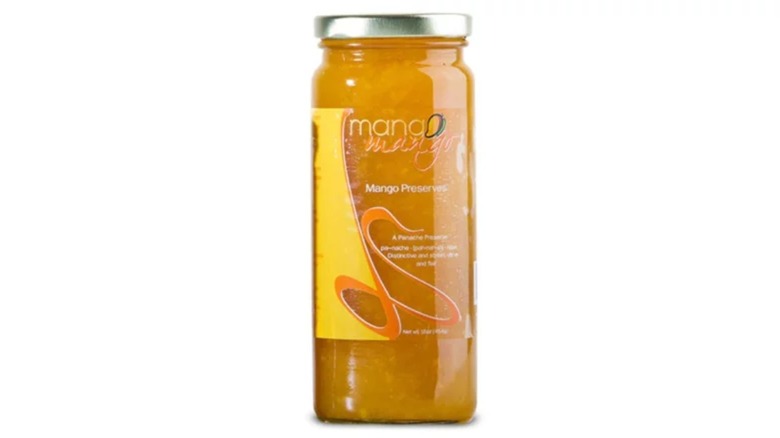 Mango Mango
Mango Mango's founders didn't get the opportunity to partner with a "Shark Tank" investor, but they're still doing well for themselves — and they're using their success to give back.
In addition to running their Mango Mango empire, the company's co-founders still operate their event-planning business, Simply Panache. During the start of the COVID-19 pandemic, the women gave back to their local community by donating school lunches to more than 1,000 students after the school lunch program was put on hold, they explained to The Scout Guide in 2020.
"It is important to us to support the community that supports us," co-founder Lakesha Brown-Renfro told the outlet. "We have been excited to expand our reach in concert with World Central Kitchen and Pharrell to feed 3,000 people in need a month." She added that co-founder Nzinga Teule-Hekima is a physician and that she was working "on the front line" during the pandemic. It would be easy for the company's founders to sit back on their laurels and enjoy Mango Mango's success, but they're staying involved in their community and helping out wherever they can.