TikTok Star Jeremy Scheck Must Have These Items In His Pantry At All Times - Exclusive
A well-stocked kitchen can make all the difference when you're looking to make any kind of dish, whether it's a quick meal, a nutritious snack, or an indulgent dessert. Whether you're sticking to a strict budget or not, TikTok star Jeremy Scheck knows there are some pantry staples he never wants to be without, especially as a college student and novice chef. When he spoke with Mashed about his partnership with Credit Karma and his latest recipe — a healthy spin on ramen with a soy-marinated egg — Scheck shared exactly what it is you'll always find in his pantry. 
Like many of the viral star's recipes, Scheck's pantry is packed with ingredients that are easy on the wallet, super nutritious, and can be flavored in tons of different ways with spices and aromatics. But at the top of his list is a classic: beans. "Canned beans are one of my all-time favorites, I always have them," Scheck said. "I like to have a variety of beans — black beans, pinto beans, butter beans, garbanzos, or chickpeas," he added. While he also appreciates dried beans, Scheck admitted that canned beans can be more convenient since you don't have to soak them for hours in advance. 
This is why canned beans are some of Scheck's must-haves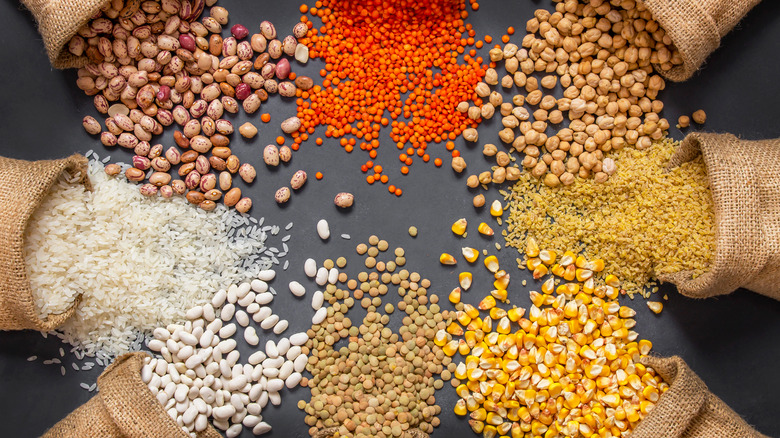 Halil ibrahim mescioglu/Shutterstock
On his website, Jeremy Scheck has tons of recipes that utilize canned beans in all kinds of delicious dishes. "Canned beans are so great because you can put them in things, but you can also make [whole meals] ... I have a vegan bean chili on my website, which is so good," he explained, adding that one of his most popular recipes is Cumin-Stewed Chickpeas. "That's something that my friend shared with me. It's as simple as basically popping open a can. They can cost less than a dollar, and beans are super good for you and full of protein," he added. But Scheck also appreciates the health value of such an impressive ingredient, too. "If you combine it with rice, you can have a complete vegetarian protein because they have complimentary amino acids. I always have rice. I always have beans," he said. 
Of course, Scheck keeps other shelf-stable, filling ingredients on hand, too. "I always have pasta. I always have other grains," he said. "I like dried lentils, they cook faster than dried beans. I like to have dried beans, as well, but lentils cook a lot faster and they're also really healthy and cheap," he explained. Clearly, this chef knows how to build great recipes on a budget that will always fill you up. 
You can check out Jeremy Scheck's Credit Karma collaboration on his TikTok page, along with the rest of his recipes on his website. Visit CreditKarma.com to see how you can improve your financial situation in just a few clicks.