Why Girl Scout Cookies Might Be A Good Choice For Vegans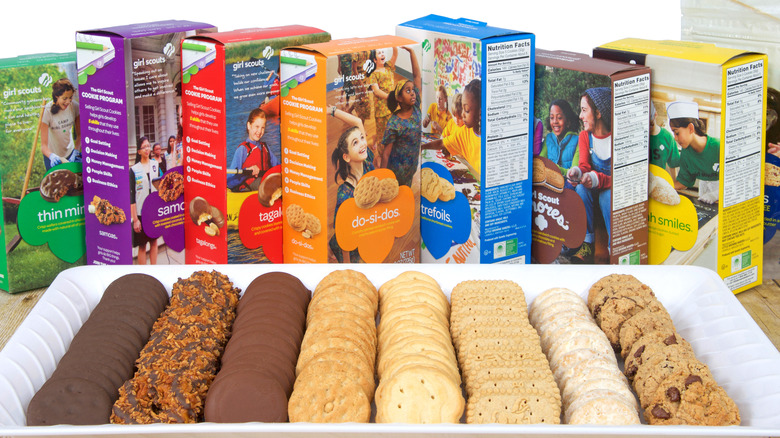 Sheila Fitzgerald/Shutterstock
If you're ever pressed for small talk at a party, ask someone what their favorite Girl Scout cookie flavor is. Their eyes are almost guaranteed to light up as they weigh the virtues of Thin Mints, Trefoils, Samoas, and Tagalongs. They might even be inspired to share a Girl-Scout-cookie-related anecdote from their childhood, and just like that, a new friendship — or rivalry, depending on your respective cookie stances — is born.
But for all the nostalgia that comes along with Girl Scout cookie season, which runs from January through April but varies depending on which state you live in, the Girl Scouts of America have made a concerted effort to stay fresh. Last year, they blew their curbside sales model out of the water by introducing nationwide online ordering, and this year they're partnering with DoorDash for on-demand delivery to cookie fanatics across the country. Plus, the Girl Scouts are always coming up with new treats to complement their legacy flavors.
With the rise of plant-based diets, Girl Scout cookies are keeping up with the times in yet another way. As it turns out, a few of your favorite flavors are totally vegan. 
Thin mints are among the vegan flavors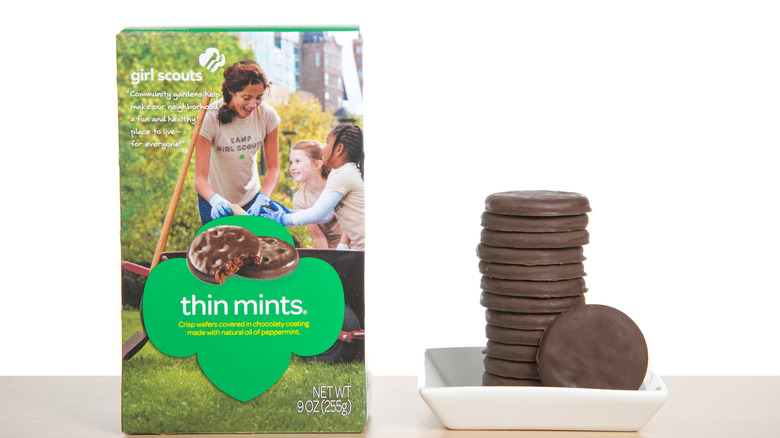 Sheila Fitzgerald/Shutterstock
According to Green Matters, Girl Scout cookies are produced by two separate distributors — ABC Bakers and Little Brownie Bakers (LBB). ABC Bakers produces plant-based cookie flavors including Lemonades, which are not to be confused with LBB's non-vegan Lemon-Ups. ABC Bakers also produce Toast-Yay!, a newcomer inspired by cinnamony French toast, and Peanut Butter Patties which are not the same as LBB's Tagalongs. 
While Little Brownie Bakers only makes one vegan flavor, it happens to be one of the most iconic Girl Scout cookies around — Thin Mints. Green Matters states that those decadent wafer-like, chocolate-coated biscuits with just a hint of peppermint flavor are in fact, vegan. However, the cookies are made in a facility that "handles non-vegan ingredients." 
Fun Fact: The vegan Thin Mint is the most-searched Girl Scout cookie, which took home the gold medal in our ranking of the best Girl Scout cookies.