What You Can Find In The Official Back To The Future Cookbook
We may receive a commission on purchases made from links.
"Whoa, this is heavy!" Chances are, at least some of you know a superfan or two of the "Back to the Future" franchise. If you have a friend or family member who simply can't get enough of Marty McFly and Doc Brown (or perhaps you are that person), there exists a book that's geared toward them. And unlike Biff's sports almanac, obtaining it doesn't involve accelerating to 88 mph in the plutonium-powered DeLorean. The only catch is that the '80s-loving owner should have some sort of knack for whipping up homemade meals in the kitchen.
Published in October 2020 (via Amazon), "Back to the Future: The Official Hill Valley Cookbook" is filled with recipes that are uniquely inspired by the timelines across the iconic "Back to the Future" trilogy. Specifically, the volume contains recipes that were all the rage between 1885 and 2015, the predominant eras of humankind during which the films' various plots are set. So, what types of meals can one create from this culinary companion designed for "Back to the Future" buffs?
The official 'Back to the Future' cookbook is for fans hungry for nostalgia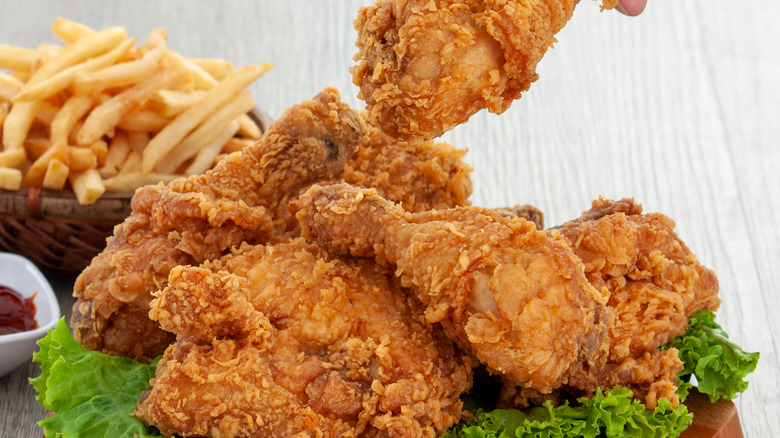 BryanL/Shutterstock
For those who are (somehow) unfamiliar with the legendary three-piece tale, the premise is an essential one to know: The adventurous, witty, nimble, and fashionable teenager Marty McFly travels through time to prevent conflict, save lives, and battle enemies. His missions often misfire, resulting in comedic and dramatic outcomes. The main setting of "Back to the Future" is a fictional sleepy town called Hill Valley, hence the cookbook's subtitle. Throughout the series, a lot of change takes place in the metropolis, from its people to its buildings to its roads to its culture. Food trends continuously evolve, and "Back to the Future: The Official Hill Valley Cookbook" pays homage to popular recipes throughout the decades.
The colorful cookbook, written by James Beard-nominated author and renowned foodie Allison Robicelli, can be purchased from the official Back to the Future online store, Amazon, Barnes & Noble, and other sellers. It consists of more than 65 recipes spread across five chapters, all of which represent different historical periods, namely 1885, 1955, 1985, and 2015. The fare encompasses comfort foods like chicken pot pie, mini pizzas, meatloaf, and fried chicken. There's even a quiche Lorraine recipe (get it?). Readers will also find sweets such as hoverboard-shaped frosted cookies, pudding pops, and tiramisu. Beverages include "Emmett Brown's Sarsaparilla and Pear Mocktail" and "Enchantment Under the Sea Punch" (per Back to the Future Store). Great Scott!