We Tried Jameson's New Ginger And Lime Cocktail In A Can. Here's How It Went.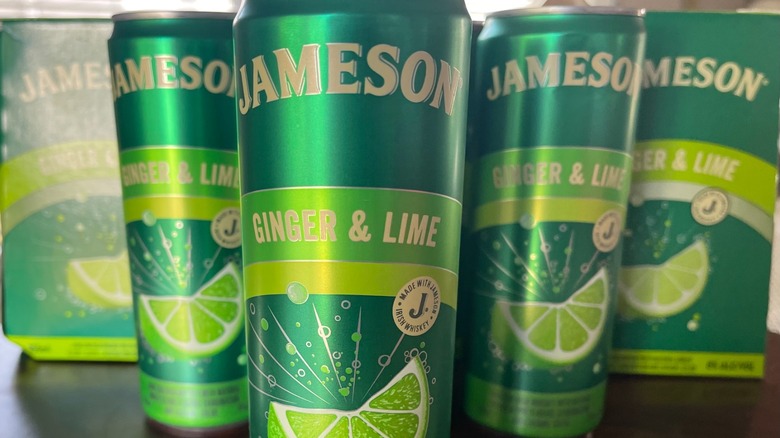 Alex Darus/Mashed
Whether it's poured into coffee or enjoyed straight on the rocks, Jameson Irish Whiskey is a popular spirit for St. Patrick's Day. This year, the brand declared that the festivities are worthy of a two-day celebration (the traditional date of March 17, along with March 18), in order to make up for the toned-down parties in the past couple of years. Jameson is even paying some of its loyal customers to celebrate the holiday this year — that's how much the company wants everyone to have a good time. In order to help fuel a 48-hour festivity, the Jameson released its first-ever canned cocktail in the U.S., Ginger & Lime. The flavor is based on the classic Jameo and ginger ale bar order, but with a citrus twist. 
Ahead of St. Patrick's Day, we got our hands on Jameson Ginger & Lime for a taste-test to determine whether or not the canned cocktail is good enough to replace your usual pub go-to. 
What's in a Jameson Ginger & Lime?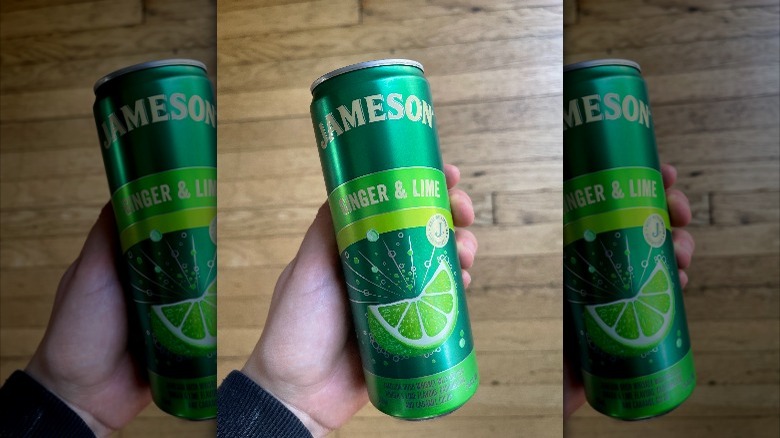 Alex Darus/Mashed
Jameson is jumping on the bandwagon that's filled with brands creating any and every version of ready-to-drink canned cocktails. These cans pack all the flavor of a whiskey and ginger ale cocktail, but with a mere 6% alcohol by volume, so you will be able to down a few over a couple of hours. The alcohol content is slightly higher than your typical hard seltzer such as White Claw, which contains 5% ABV. A key difference is that the Jameson cocktails are blended with the distillery's signature Irish whiskey, while many hard seltzers utilize malt liquor, which adds a totally different flavor. 
The 12-ounce cans come in packs of four, so they're great to stock in your fridge or take on-the-go to your St. Patty's celebration. The brand takes its classic Jameson Irish Whiskey and gives it a sweet kick. The bubbly beverage features natural ginger and lime flavors, allowing you to enjoy a well-balanced cocktail without all of the work. 
How much does it cost?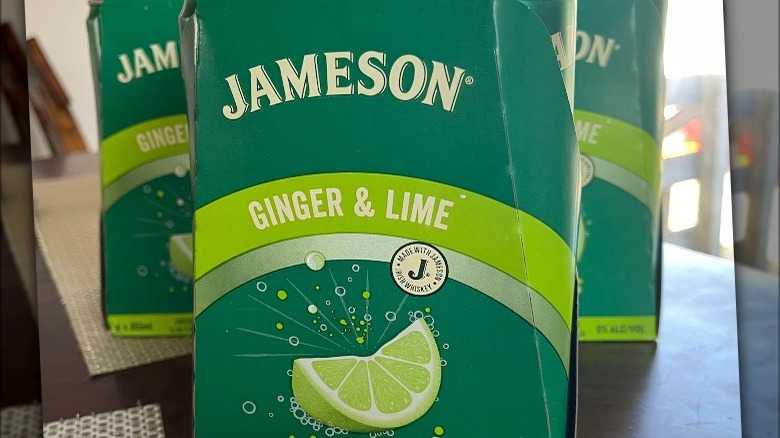 Alex Darus/Mashed
As previously mentioned, Jameson is selling its 12-ounce cans in packs of four, which is pretty standard for canned cocktails made with actual liquor. Per a press release from Jameson, the suggested retail price is $14.99, but at Total Wine, a four-pack will currently cost you $12.49. That's slightly higher than the $9.99 price tag for a four-pack of the similar Jim Beam and Ginger Highball, though it should be noted that a standard 750-milliliter bottle of Jameson retails for $18.99 while a fifth of Jim Beam goes for $10.99. In other words, you're paying for a whiskey upgrade, and in this case, spending a bit extra for the Jameson cocktail is definitely worth it.  
Jameson's format for its first canned product opens the door for more flavor varieties, as 12-ounce cans for less than $15 a four-pack is a competitive price point. Also, its packaging resembles other popular canned cocktail brands like High Noon or Cutwater that feature a pleasant format that can easily adapt to market different flavors and mixes.
Where is it available and for how long?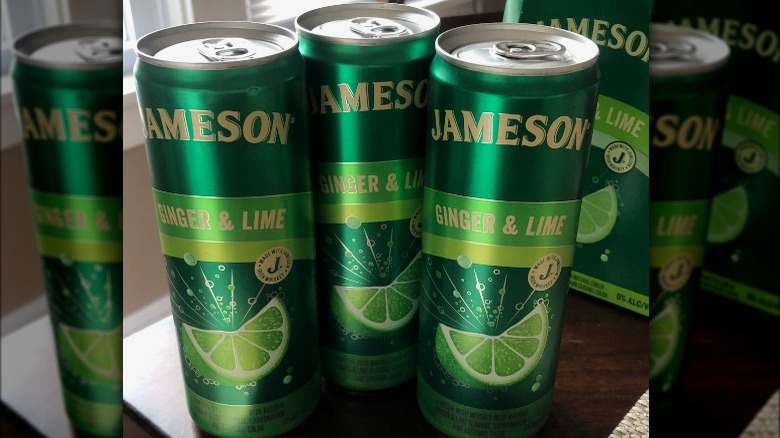 Alex Darus/Mashed
Jameson Ginger & Lime is the brand's first-ever ready-to-drink release in the U.S., and it is available nationwide. Drizly is already carrying packs of it, but be sure to double-check with your local retailer if it is in stock. The release comes just in time for St. Patrick's Day, so it's a fitting way to celebrate the holiday and kick off a new product. 
Many major liquor stores in the U.S. seem to already have Jameson's latest libation in stock, including Total Wine, ABC Fine Wine & Spirits, Twin Peaks Liquor, and more. It's unclear whether or not the canned cocktails will be a limited time only, but it would make sense if Ginger & Lime stuck around. Summer is the prime season for ready-to-drink cocktails because of their convenience factor. It's timely for Jameson to release this new product to kick off St. Patrick's Day, and then ride the wave of excitement into the prime canned cocktail drinking season. 
What are the nutrition facts?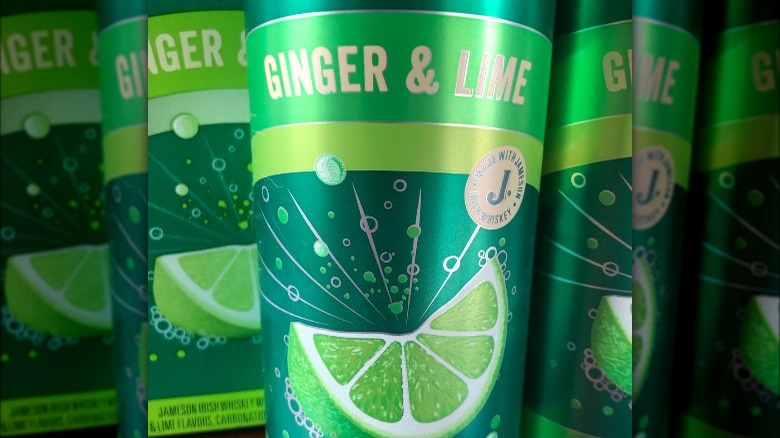 Alex Darus/Mashed
It turns out that there is a European version of Jameson Ginger & Lime that's slightly different than the American release. Across the pond you'll find the Jameson Ginger Ale & Lime canned cocktail that is 5% ABV. While the nitty-gritty nutrition information for the domestic beverage isn't available, its international counterpart does give some indication of what's in store. 
The European version of the canned cocktail contains 141 calories, 18 grams of carbohydrates, and 18 grams of sugar. In comparison with other similar products on the market, Jameson's canned cocktail is pretty on par. Cutwater's canned version of a Whiskey Mule, which contains whiskey, ginger beer, and lime, boasts 220 calories per serving. Additionally, each can contains 20 grams of carbs and 20 grams of sugar (via Cutwater). 
A serving size of traditional Jameson contains 79 calories and 0 grams of carbs and sugar, according to the company website, so it would be a little more health conscious to go with the liquor on the rocks rather than cracking open a can. But if you mix it with your a popular ginger ale brand like Canada Dry, which typically boasts 140 calories, 36 grams of carbohydrates, and 35 grams of sugar per can (via FitBit), the pre-mixed cocktail option is definitely the better pick when it comes to sugar content alone. 
How does it compare to similar products?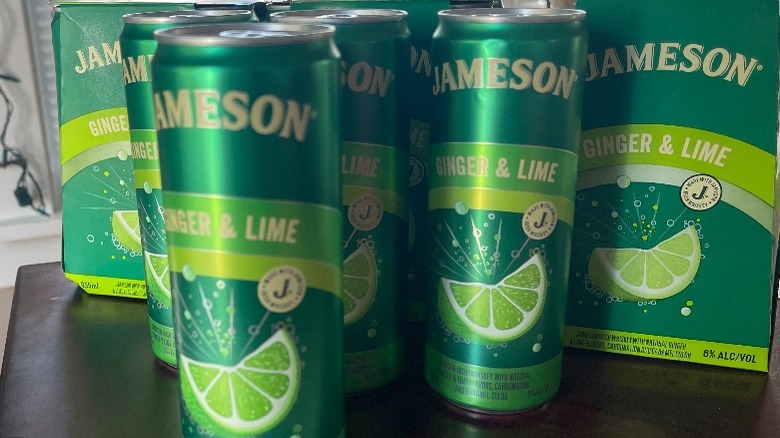 Alex Darus/Mashed
Jameson is truly entering new territory with its first ready-to-drink cocktail as prior to its release, their product line has solely consisted of straight spirits. There is no other product in its category from the brand that compares to Ginger & Lime. The brand did release an orange version of its traditional Irish whiskey that contains a similar pleasant citrus twist as the Ginger & Lime cans. Also, because the new product is based on such a ubiquitous cocktail, there are high expectations for it to hit the flavor markers. 
Flavor-wise, if you were blindfolded and had a traditional Jameson and ginger ale vs. this can, it would be hard to tell the difference. The distinct smoothness of traditional Jameson pairs well with the ingredients in the can. Despite that difference in sugar content mentioned above, Ginger & Lime is a bit sweeter than the standard cocktail version. 
If you compare it with Jim Beam's Ginger Highball beverage, Jameson has the added bonus of its signature sweet yet spicy flavor that completely differentiates this. Based on a review from Drinkhacker, Jim Beam's canned version of a whiskey and ginger ale could include any run-of-the-mill bourbon. However, Jameson succeeds in keeping its signature flavor which makes this product stand out from others on the liquor store shelf. 
How does it taste?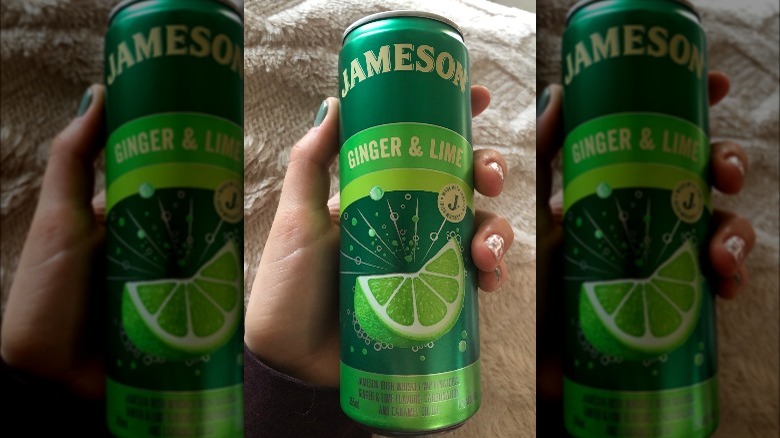 Alex Darus/Mashed
Jameson's new canned cocktail is a great way for novice whiskey drinkers to try something different that isn't too stiff of a drink. The mix is pleasantly sweet, and the taste is closer to a ginger ale rather than an adult beverage. It's smooth and bright, thanks to the much-appreciated addition of lime. However, the strong aromatic flavor of ginger is there, which has a warming effect similar to a straight-up shot of Jameson. 
If you are a loyal Jameson purist, don't knock these cans until you try them. It may be a sweeter take on the whiskey and ginger ale combo, but the brand really was able to keep all of the classic flavors of the mix intact. If it's not strong enough for your liking, an added shot of Jameson stirred inside would likely be a welcome addition for Irish whiskey fans. 
Considering the price point, picking up a few cans for your St. Patrick's Day celebration is a no-brainer. It's a crowd pleaser, so odds are someone in the room will be more than happy to take one off of your hands if it's not your favorite. While the market of ready-to-drink cocktails may be saturated, Jameson's first can offering is worth the wait and holds its own.