TikTok Is Loving Giada De Laurentiis' Simple Sheet Pan Shrimp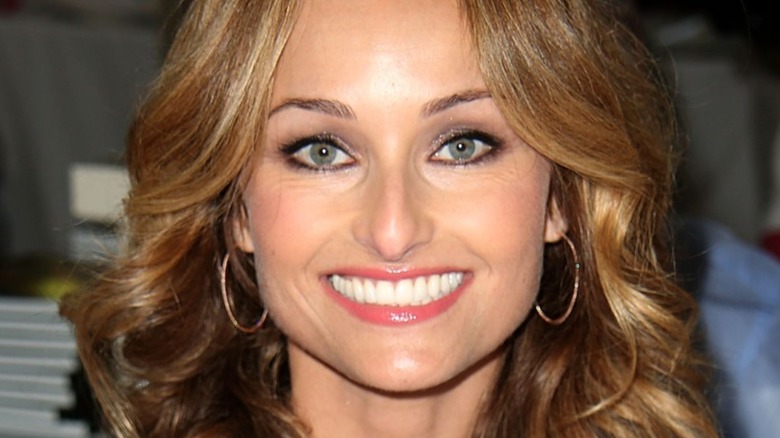 Sonia Moskowitz/Getty
It's not always easy to head into the kitchen to whip up a meal, especially after a long and taxing day. Takeout is one option to turn to during these bouts of cooking fatigue, but with so many restaurants implementing price increases to their menus these days due to supply chain and labor issues, it is getting especially difficult to hit the "place order" button after seeing the final price of the delivery meal you've dreamt up. On the occasions that you do decide to treat yourself to convenient takeout, there's a feeling of guilt that coincides, thanks to that little voice in your head reminding you that you have food at home.
Fortunately, there's a simple solution for when you don't want to spend all night in the kitchen but also don't feel like shelling out money for takeout: sheet pan dinners. Speaking of those, one recent recipe created by Giada De Laurentiis has been earning some serious buzz. Taking to her TikTok account earlier this week, the Food Network star shared a video in which she demonstrated how to make a "super easy" sheet pan shrimp meal that her followers seem more than ready to try for themselves.
Fans think De Laurentiis' sheet pan shrimp looks 'divine'
Deciding your dinner plans for tonight? If you already have shrimp and veggies on hand, you can recreate De Laurentiis' TikTok sheet pan recipe in 35 minutes. Featuring shrimp from one of the celeb chef's favorite seafood markets in Los Angeles, Santa Monica Seafood, the gluten-free dish from her Kristin Cavallari-approved cookbook, "Eat Better, Feel Better," has you roast broccoli, cauliflower, cherry tomatoes, and red onion with the shrimp on a single tray (via Rachael Ray Show). Flavored with pantry ingredients like dried oregano, grated parmesan, and lemon zest, the easy recipe has followers raving in the comments section.
"Looks amazing as always," one person commented, while another described the meal as "divine." Several people thanked De Laurentiis for sharing the recipe, which TikTok user @yackielicious said they would be making in the near future. Should they actually follow through with that promise, current reviews for the recipe seem to indicate that they won't be disappointed with their decision. The dish has received several five-star ratings on De Laurentiis' lifestyle website, Giadzy. "Made this tonight for dinner and it was delicious!" wrote one reviewer, who also noted it was "perfect" for those looking for healthy, meatless meals. "Delicious, healthy, easy weeknight dinner. It's a keeper," added another fan.