Cornbread Pancakes Recipe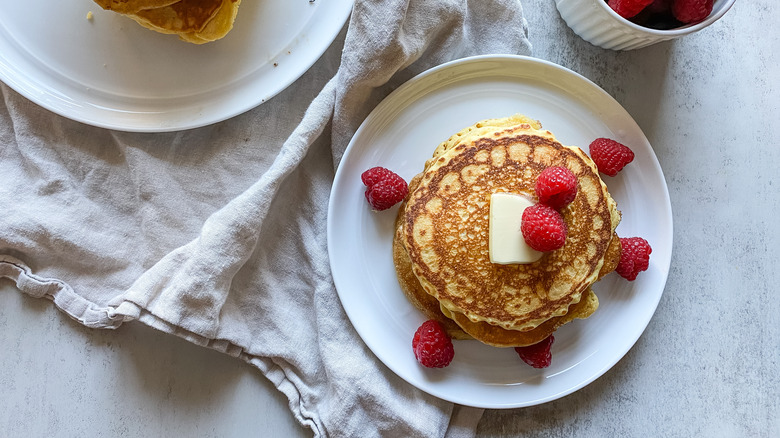 Kristen Carli/Mashed
Have you ever had the desire to add a savory twist to your pancakes? Recipe developer and registered dietitian nutritionist, Kristen Carli, MS, RD, brings us this recipe for cornbread pancakes. These pancakes taste buttery and slightly sweet, which is just what we are looking for in classic cornbread. We like to serve these with tart raspberries, but feel free to use any fruit or toppings you like, such as blueberries, whipped cream, powdered sugar, or even chocolate chips.
This recipe is essentially a classic pancake batter with the addition of cornmeal for the savory corn taste you are expecting. But, because it is otherwise similar to normal pancake batter, it comes together in less than 10 minutes and cooks up in just 15. This elevated twist on pancakes doesn't take any extra effort or time to assemble, so you can get ready to wow your family and friends at your next weekend brunch.
Gather your ingredients for cornbread pancakes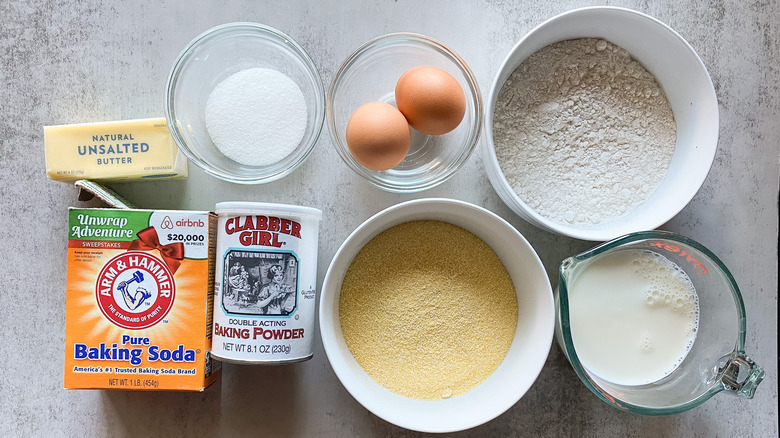 Kristen Carli/Mashed
To make these cornbread pancakes, start by gathering the ingredients. For this recipe, you will need flour, cornmeal, whole milk, eggs, sugar, baking soda, baking powder, butter, and optional toppings of raspberries and syrup.
Whisk the batter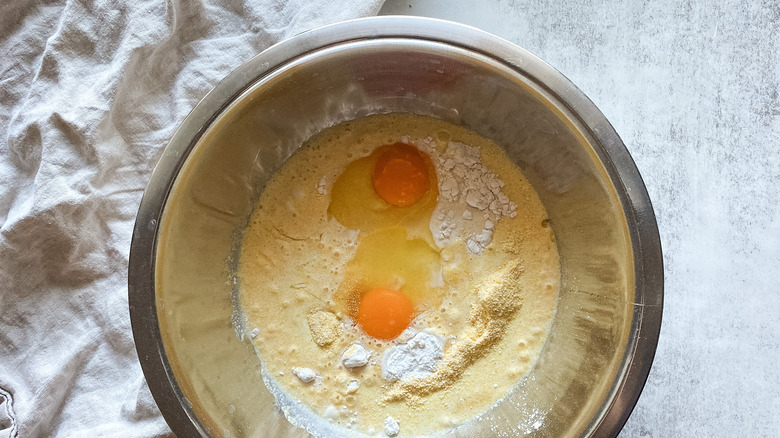 Kristen Carli/Mashed
In a large bowl, add in all of the ingredients, and whisk them together to create a smooth, lump-free batter.
Cook the pancakes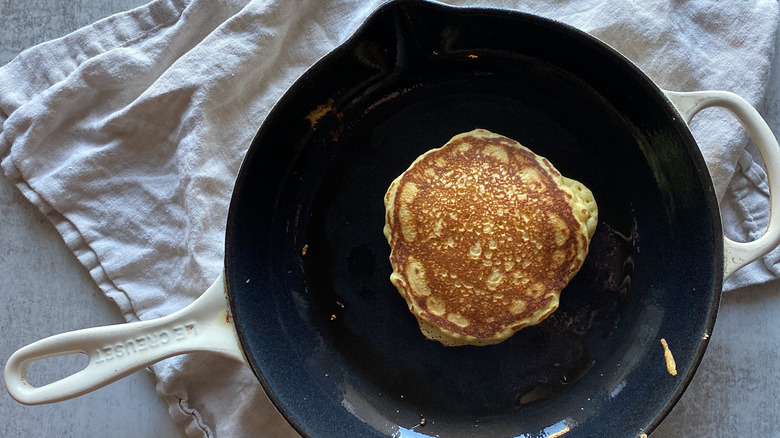 Kristen Carli/Mashed
To cook up the pancakes, start by heating up a large cast iron skillet or griddle over medium heat, and spray it will nonstick cooking spray. Once the pan is hot, use a ladle or cookie scoop to drop batter onto the skillet. Allow the first side to cook until you begin to see bubbles in the batter. The bubbles are your cue to flip the pancakes. Once flipped, allow them to cook about one to two minutes. Remove the pancakes from the skillet with a spatula and set aside on a serving plate. Be sure to spray the skillet with nonstick cooking spray between batches.
Serve with berries and butter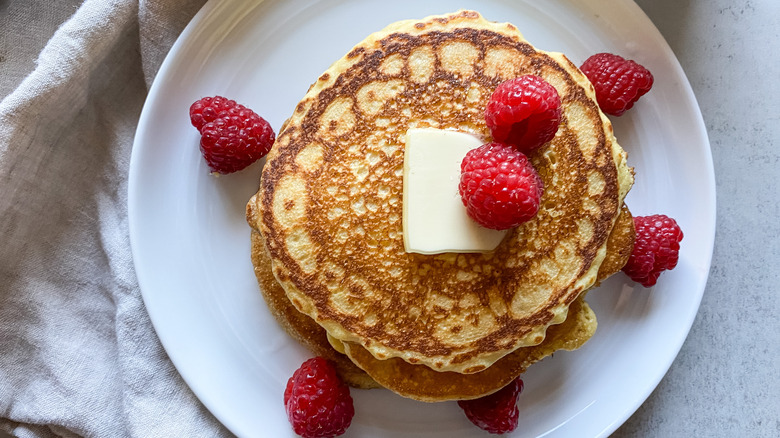 Kristen Carli/Mashed
Repeat this process with the remaining batter. You should end up with about 10 medium-sized pancakes. Stack your pancakes into individual servings and top with optional toppings including raspberries, additional butter, and syrup. As for leftovers, you can store them in the fridge for three days, or even freeze them beyond that. Cheers to an easy, innovative take on pancakes!
Cornbread Pancakes Recipe
This cornbread pancakes recipe adds a savory twist to the breakfast classic.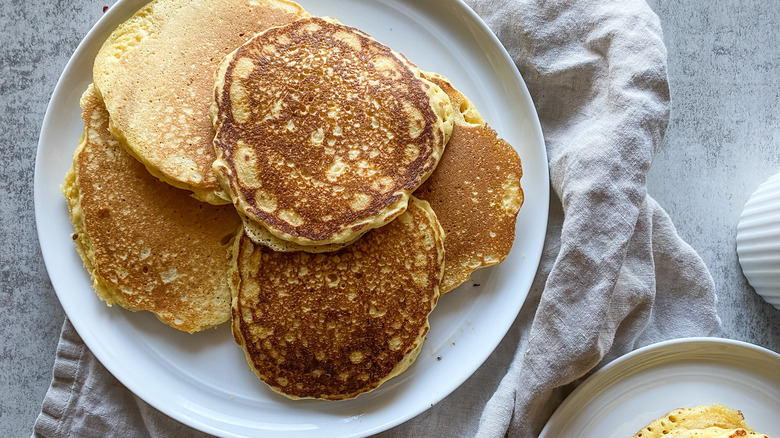 Ingredients
¾ cup flour
¾ cup cornmeal
1 cup whole milk
2 eggs
2 tablespoons sugar
½ teaspoon baking soda
½ teaspoon baking powder
4 tablespoons butter, melted
Optional Ingredients
butter for serving
syrup for serving
fresh raspberries for serving
Directions
In a large bowl, add all ingredients. Whisk to combine until batter is smooth and lumps are gone.
Heat a large cast iron skillet or griddle over medium heat. Use nonstick cooking spray to grease the skillet.
Using a ladle or a large cookie scoop, scoop the batter onto the hot griddle. Cook for 1 to 2 minutes until you see bubbles. Then flip the pancakes and cook 1 to 2 minutes on other side.
Repeat with all pancakes, spraying the skillet with nonstick cooking spray in between batches.
Use a spatula to remove all pancakes from the skillet and set aside.
Serve with butter, raspberries, or syrup as desired.
Nutrition
| | |
| --- | --- |
| Calories per Serving | 155 |
| Total Fat | 6.5 g |
| Saturated Fat | 3.7 g |
| Trans Fat | 0.2 g |
| Cholesterol | 46.6 mg |
| | |
| --- | --- |
| Total Carbohydrates | 20.3 g |
| Dietary Fiber | 0.7 g |
| Total Sugars | 4.0 g |
| Sodium | 105.4 mg |
| Protein | 3.7 g |