Why You Might Want To Think Twice About Ordering Culver's Cheese Curds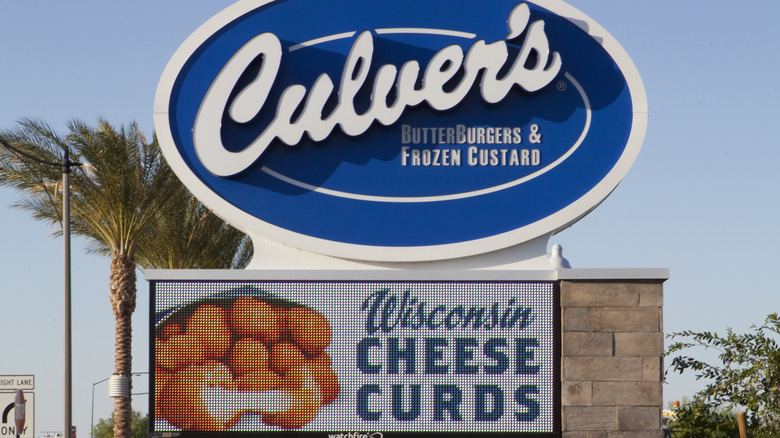 JJava Designs/Shutterstock
Californians may obsess over In-n-Out Burger and many Texans are proud of Whataburger, but Wisconsin has its own bucket list-worthy regional fast-food chain: Culver's. The restaurant chain first opened in Sauk City, Wisconsin in 1984 (per Culver's), and now has locations in 25 states.
While it's known for original ButterBurgers and frozen custard, Culver's has also become famous for its deep-fried cheese curds. Cheese curds are actually a byproduct of the cheddar-making process, per AllRecipes. When the solid curd first separates from the liquid whey, the pieces are around the size of a grain of rice or a pencil eraser. But then they go through "cheddaring," in which the curds are sliced, stacked, and flipped until they form smooth slabs. At this point, instead of molding the curds into bricks or wheels for aging, cheesemakers cut them into the fresh nugget-sized pieces that are known for the squeak when you eat them.
All of the cheese for Culver's deep-fried cheese curds, which it started serving in 1997, comes from La Grander Hillside Dairy in Stanley, Wisconsin. But next time you drive past a Culver's, you might want to think twice about stopping to order some curds.
Culver's curds contain a staggering amount of calories and sodium
One look at the nutrition details for Culver's famous Wisconsin cheese curds will reveal why you might want to give them a second thought. Besides containing a whopping 1,020 calories, a large basket of cheese curds packs 2,460 milligrams of sodium (via Culver's). This means that a large curd order alone contains more sodium than the 2,300 milligrams that's recommended for an entire day, according to the CDC. In fact, the website Eat This Not That declares Culver's cheese curds one of the 14 "worst fast food side dishes."
Despite their questionable health value, some of us simply can't get enough of the chain's cheese curds. After overwhelming social media support last year, Culver's turned its April Fool's joke into an actual burger — the "Curderburger," or one giant fried cheese curd atop a deluxe ButterBurger — and added it to its menu. The Curderburger was only available for one day: National Cheese Curd Day, a holiday Culver's invented that takes place on October 15 (via Culver's). Nationwide, Culver's sold more than 135,000 Curderburgers and many stores set sales records, per the Appleton Post-Crescent — but the company hasn't said whether or not it's bringing back the cheesy phenom for 2022.