How Many Times Chili's Presidente Margarita Is Really Shaken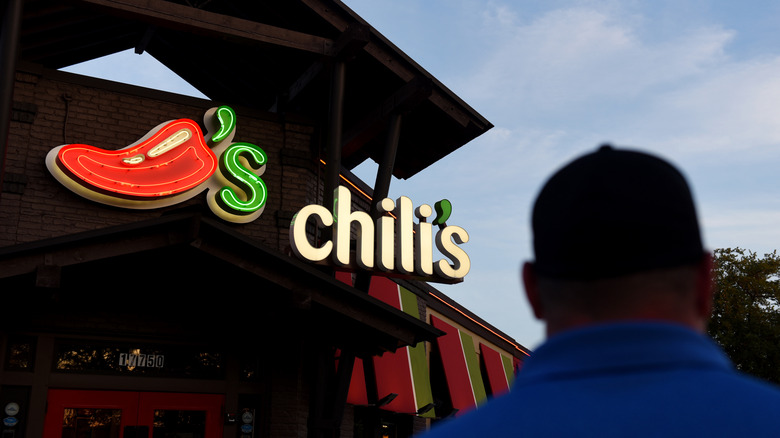 Bloomberg/Getty Images
Few margaritas have the kind of swagger Chili's Presidente margarita boasts. Fans on social media write odes to this Chili's drink made with Sauza Conmemorativo Tequila, Patrón Citrónge, and E&J Brandy. It's served in a glass with a salted rim and is available in three flavors: classic, mango, or strawberry. While the restaurant was closed in 2020, one fan of this drink tweeted, "i will never take another chili's presidente margarita for granted ever again. when we meet again, i'll cherish every sip i swear. thinking of you baby." And another shared, "i just want to go to chili's and have a presidente margarita with my girls."
Chili's Presidente margarita is quite popular. Chili's sells a massive amount of margaritas each year, to the tune of 20 million. Mental Floss notes that number is equal to 13 swimming pools or 135,000 gallons of this favorite alcoholic drink. In fact, margaritas are the favorite cocktail of many Americans. Per Restaurant Hospitality, 60% of respondents in a Nielson CGA consumer survey said it was their top drink. Chili's version of the drink seems to be incredibly popular, and one thing that keeps its fans talking is the number of times the margarita mix is shaken in the iconic blue shaker the Presidente margarita is served in. 
The drink is shaken over 20 times
According to Vinepair, the Presidente margarita is the "best-selling cocktail" at Chili's, and for good reason. The drink is thoroughly shaken in a blue shaker before a drop of your margarita ever touches your lips. There is a lot of TLC and attention to detail that goes into preparing the beverage. In fact, the chain's website states that each one is hand-shaken 25 times before it is poured into your glass.
What does shaking do for your drink? Per the Food Republic, the endgame with shaking is more than just mixing. They state that a drink becomes "cooler" and more "diluted" with each successive shake which ultimately "releases better flavor." But they also caution to get overzealous with the shaking and instead aim for 25 times to start. Clearly, there is something magical about this multiple of five, which is worth noting if you decide to try your hand at making a copycat version of the Chili's beverage at home. Just be sure to avoid these mistakes when making a margarita.