How The EatOkra App Connects Foodies To The Best Black-Owned Restaurants - Exclusive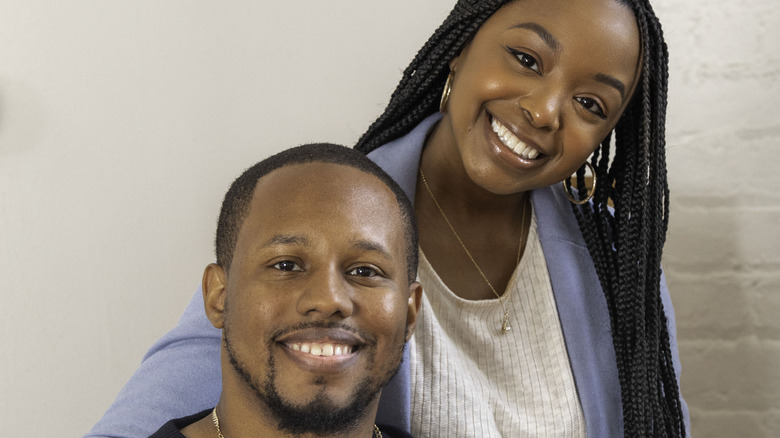 Rhea Kay
In today's world, where you eat your next meal can make a statement. An occasional dinner outing or a weekly takeout night doesn't just satisfy your cravings, it's also about how you support the businesses in your community — by putting your money where your mouth is, so to speak. For those that want to keep that top of mind as they dine their way through their neighborhood, the EatOkra app is a one-stop shop for finding the best Black-owned restaurants in any area.
EatOkra was founded in 2016 by husband-and-wife team Anthony and Janique Edwards. What started out "as a tool for Anthony and I to support Black-owned businesses and really explore Brooklyn" turned into a life-changing career for the Edwards and "a must-have app for all the foodies out there," says Janique. "We were having this challenge of wanting to support Black-owned businesses, specifically restaurants in our area, and not having a resource to locate those businesses or not having a central location that we could go to that would make it convenient for us to discover them," she said. So the couple decided to create that resource themselves.
In an exclusive interview with Mashed, EatOkra's founders explained how the app is designed for every food lover that wants to be connected with great cuisine while supporting Black-owned businesses in their community. And they also opened up about the app's mission to go beyond just restaurants.
EatOkra is for every foodie in every city
EatOkra is simple to use and growing quickly, and that means good things for increasing your chances of finding local restaurant listings. And not just that. "We also list food trucks. We're beginning to list caterers, meal prep companies," said Anthony Edwards during a recent interview with Mashed. The app, which you can use on your phone or the web, is now available in roughly three dozen cities around the country, including all the major metropolitan areas. Anthony also added, "EatOkra is geolocation aware. Wherever you're at ... if you open it, it'll tell you what's around. That includes a bunch of smaller second- and third-size cities."
And if you're wondering if an app focused on highlighting the Black community is only for that community itself, the Edwards helped to clarify. "We don't typically say that EatOkra is specifically for this group or that group ... EatOkra is intended for foodies who appreciate different dining experiences, different cultural experiences, but also who have an understanding of the importance of social equity when it comes to Black entrepreneurship and Black businesses," said Janique, adding, "That can be anyone of any race ... it's for anyone who believes in these things."
EatOkra is much more than just a restaurant listing app
The purpose of EatOkra, at its core, has always been about supporting Black entrepreneurship. In the food world, that goes way beyond just restaurants. And that's EatOkra's plan, too. Already, you can purchase an assortment of sauces, snacks, coffees, and teas from EatOkra's marketplace, featuring products from a hand-selected group of Black vendors. 
And while you're shopping for treats, you'll soon be able to order your lunch. EatOkra's founders noted they are "also really excited to introduce ordering through the app" later this year. "We want people to directly do commerce through EatOkra and purchase that soul food meal, that barbecue meal, that vegan meal or something from the café through EatOkra directly." The Edwards aren't stopping there with EatOkra, either. Besides developing an e-learning platform for Black business owners, they also added, "There's some other things we want to list, like events through the apps. We want people to know about the next festival or dinner or brunch party, sip and paint, things like that."
At the end of the day, the Edwards have a simple recipe for success — great food, plus food for thought. "We want to make sure EatOkra is a really holistic 360-[degree] kind of experience where you can learn by going, learn by discovery."
​​The EatOkra app is available for download on the App Store and Google Play.