This Is The Best Dunkin' Sandwich According To 25% Of People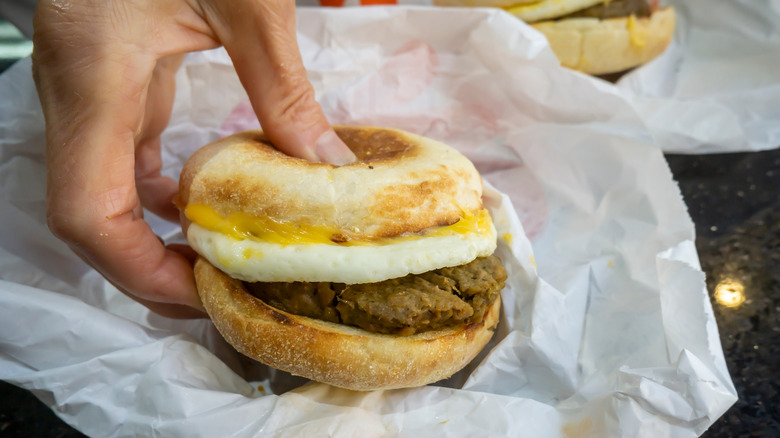 rblfmr/Shutterstock
Dunkin' isn't just for frosted donuts and iced coffee. The chain also likes to play the breakfast game. A look at its menu suggests that thinks that the name of this game is appealing to almost everyone  Presumably, Dunkin' dropped its protein-packed omelet bites to appeal to more health-conscious consumers. It tries to reel in those who are craving something sweet with options like the massive chocolate chip muffin. There's even the ever-trendy avocado toast topped with roasted tomatoes and everything bagel seasoning that just came out this spring for the foodies.
One of the main fixtures of Dunkin's morning menu is its breakfast sandwiches. The current line-up includes hearty options like the sourdough breakfast sandwich along with lighter fare like the Wake-Up Wrap. To find out which one people think is most worth ordering, Mashed polled 602 people in the U.S. Here's the order that more than a quarter of respondents said is the best of the bunch..
About a quarter of Dunkin' customers love bacon for breakfast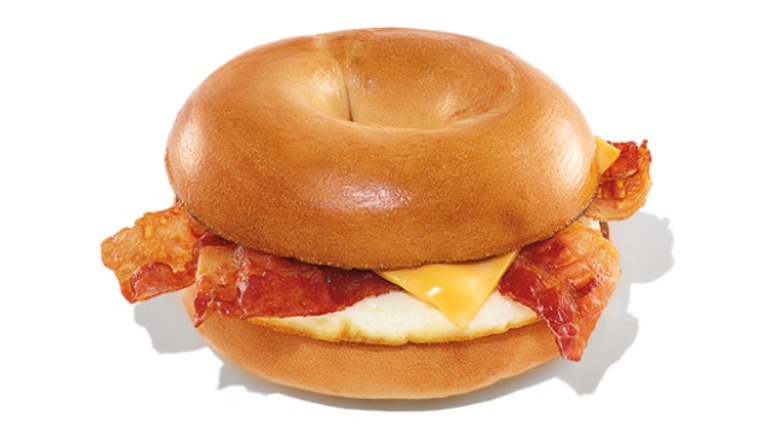 Dunkin'
Given the widespread belief that bacon makes everything better, it's probably not surprising that the bacon, egg, and cheese sandwich nabbed the most votes among Dunkin's breakfast sandwiches. According to Mashed's poll results, 25.42% of people say it's the best item. The classic sandwich, which clocks in at 520 calories (via the Dunkin' website), comes on a plain bagel and includes a fried egg, cherrywood smoked bacon, and American cheese. You can also customize the type of bread if you want to swap your bagel for a croissant, English muffin, or biscuit. According to the chain's website, this sandwich clocks in at 400 calories when ordered on an English muffin, and 560 with a croissant.
While the bacon, egg, and cheese sandwich was the winner, there was a close runner-up. The sausage, egg, and cheese from Dunkin' was less than 1% behind the top spot, receiving 24.92% of the votes. The sourdough breakfast sandwich was another popular choice, with 20.93% of respondents selecting it as their go-to. Further behind was the Wake-Up Wrap, with 13.29% of the votes, followed by the ham, egg, and cheese with 8.47%. The least love went to the turkey sausage, egg, and cheese, which received just 6.98% of the votes.