Here's What Dish Is Being Prepared At The Beginning Of HBO's Julia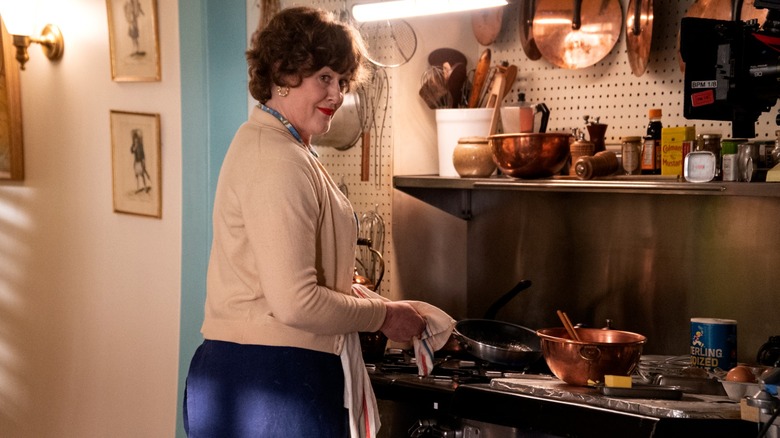 WarnerMedia
The premiere episode of HBO's "Julia" begins in true Julia Child fashion: The late celebrity chef and her husband, Paul Child, play hosts to a table full of friends on a 1961 winter day in Norway. Paul is busy ensuring no wine glass on the table goes empty, while Child (played by Sarah Lancashire), is blissfully happy in the kitchen cooking up a feast for dinner. It's only fitting that a show about the legendary figure would open with a clip of Child preparing one of her favorite meals for a crowd.
Child is seen searing a fillet of fish, swishing audibly sizzling butter on top with a spoon. She slides the fish onto a tray, pours the pan juices on top, garnishes it with lemon halves and parsley, and walks the fish to a very happy table. Two minutes into the show and fans have already heard Child say her iconic phrase, "Bon appétit!" 
So, what exactly is the dish that Child cooks during the first few minutes of the eight-episode show? The chef, it seems, is cooking sole meunière — the dish that is often credited with being the starting point of Child's journey into the esteemed world of French cooking, per Taste of Home.
Sole meunière was one of the first dishes Child ate in Paris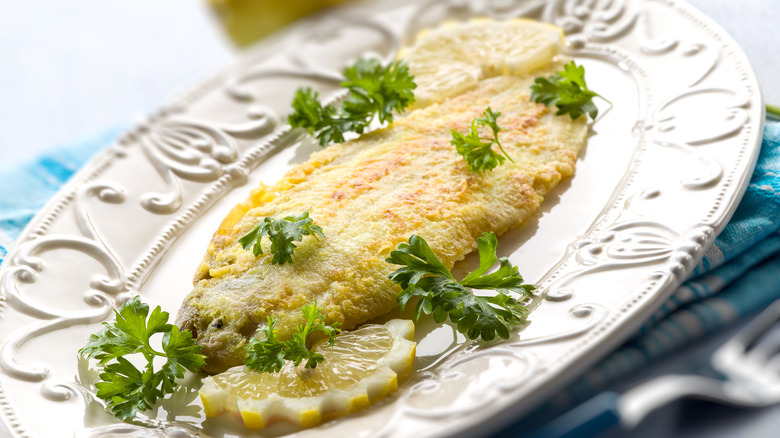 marco mayer/Shutterstock
Sole meunière, says Child in her memoir "My Life in France," was part of the first meal that she ate on her very first visit to France in November of 1948, per the National Museum of American History. The fish, "perfectly browned in a sputtering butter sauce," turned out to be "the most exciting meal of my life," she recounts. The New York Times says that this is precisely where Child's passion for French food may have begun.
Versions of sole meunière can be found in several Julia Child cookbooks: "Julia and Jacques Cooking at Home," "Julia's Kitchen Wisdom," and "The Way to Cook." Following the recipe from the latter of the three cookbooks, Taste of Home explains that a sole meunière requires skinless and boneless sole fillets to be coated in flour and pan-fried in clarified butter over high heat until they are golden. Once the fish is done, more butter is melted in the pan to be poured over the fillets. The final result, the site notes, is fish that's crisp and brown on the outside but delicate enough to fall apart on the inside, soaked in a rich sauce. 
While the dish may not be as well-known as beef Bourguignon or French onion soup, it's easy to see why it made Child feel in love with the country's cuisine.