Whole Foods Shoppers Can't Wait To Try Its New Ranch Dips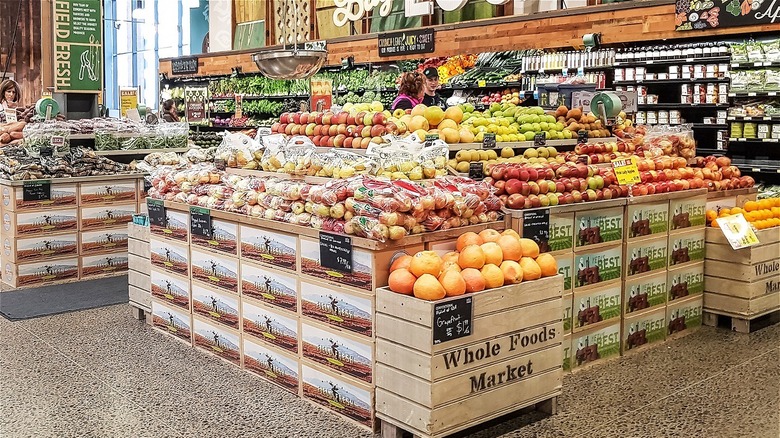 Alastair Wallace/Shutterstock
Ranch is a popular condiment with a range of uses that aren't limited to raw vegetables or chicken wings. Although it might seem surprising, there's a reason why so many people eat pizza with ranch dressing drizzled on top, and it has to do with the contrasting flavors in each bite. There's so much love for ranch, in fact, that St. Louis has a restaurant that's all about the beloved dressing. If you can't make it to Missouri, there could be an easier way to satisfy that ranch craving at a Whole Foods near you.
Recently, Instagram grocery shopping account @wholefoodshype posted some photos of Primal Kitchen's new ranch dips, which are made with avocado oil. There are two flavors of this dip in stock at Whole Foods: regular for purists and a red-tinged buffalo version for fans of a little spice. The shopper said they "loved" the dips and praised their "thick" consistency.
What are people saying about these ranch dips?
Ranch-loving shoppers are looking forward to trying these dips, which aren't a new product but are new to Whole Foods shelves. In the comments section of @wholefoodshype's Instagram post, one user wrote, "Ohhh that is so good!" Others requested reviews of the product; the poster said the buffalo version was their favorite. 
Primal Kitchen is a health food brand focused heavily on sauces and dressings. Like many of its other products, the two ranch items are dairy-free, made without sugar, and suitable for those following keto, Whole30, and paleo diets. In addition to avocado oil, they're made with egg yolk, vinegar, nutritional yeast, and many of the herbs and spices found in traditional ranch. Go Dairy Free asked readers what they think about these dips; one reader said they like them but wish they were thicker, adding, "Primal Kitchen dressings are always a little vinegar-y, so I wasn't surprised these dips are too." Another reviewer echoed the vinegar critique on Primal Kitchen's website, while others gave it five stars.