If You Love Ranch Dressing, You Need To Eat At This Restaurant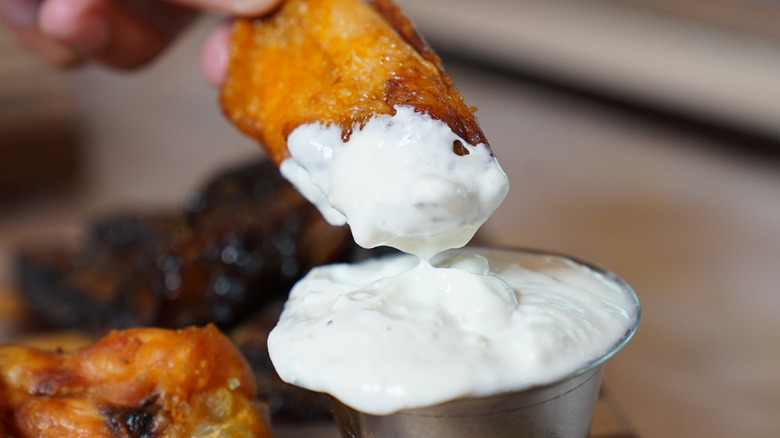 Leeron Cohen/Shutterstock
It seems that ranch dressing has developed somewhat of a cult following over the years. People either like it a lot or really love it. Aside from drizzling this creamy, herbal, zesty sauce over salads, there are folks out there who swear by smothering and dunking just about anything in ranch – pizza, french fries, potato chips, burgers, and so much more. Ranch is so well-loved that Crocs even partnered with Hidden Valley to design a shoe that resembles the food product (via POPSUGAR). From ranch-flavored ice cream to lip balm to soda, people's fondness for this condiment is clearly limitless (per Ranker).
In fact, ranch is consistently ranked at the top of the nation's favorite salad dressings lists, according to the Food Network, as well as Taste Atlas, and Parade, among other sources. Thankfully, the highly regarded dip can be enjoyed at home or at restaurants where some think it tastes better. And, if you happen to live in St. Louis, Missouri or ever find yourself in the Gateway to the West, there is a famous eatery that pays homage to one of the most beloved condiments. As its name implies, Twisted Ranch (stylized twisted RAnCh) offers a diverse menu filled with dishes that, in one way or another, integrate the all-in-one dressing, dip, and drizzle.
Twisted Ranch is a dream come true for fans of the iconic dressing
Twisted Ranch restaurant, which is located in the Soulard neighborhood of St. Louis, serves up a variety of appetizers, salads, flatbread pizzas, burgers, "adult" chicken tenders, sandwiches, wraps, and pastas, all highlighting ranch dressing. Menu staples include indulgences like fried hot wings, Philly cheese steaks, gyros, mac 'n' cheese with house smoked brisket, bacon, and jalapeño popper-flavored ranch, and ranch-seasoned fries, according to the official website. And, to wash it all down, you can even order a "Twisted Mary," the saucy establishment's spin on the classic Bloody Mary cocktail with a blend of ranch-infused vodka, lime-flavored vodka, Zing Zang mix, and a ranch seasoning-lined rim.
Since its opening in 2015, Twisted Ranch customers have raved about the joint. One left a stellar review on Google, saying, "I'm only giving this five stars because I can't give it six!!" Another wrote, "When I heard about this place I figured I'd be 'all ranched out' by the time I left. Quite the opposite. This was the most delicious, most unique, and most surprising meal I've had in so long."
Twisted Ranch also manufactures and sells its own line of 8-oz. bottled ranches, with flavors such as cheddar popped jalapeño, black peppered parmesan, avocado, Sriracha, chipotle and verde, red peppers and goat cheese, garlic smashed buffalo, and cheesy smoked bacon (per Delish). Ranch on everything forever and ever, please!