Lay's Fake April Fool's Flavor Is Cracking Up Twitter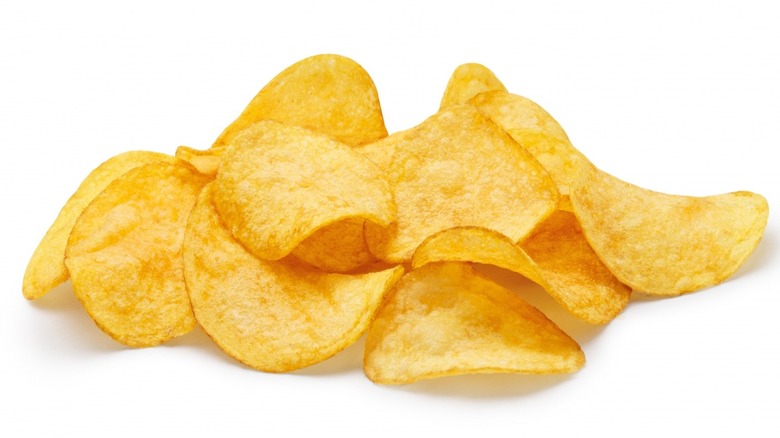 eti studio/Shutterstock
When April Fool's Day rolls around, we know to expect pranks, jokes, and even some playful hoaxes. Although its exact origins are unknown, the day of merriment and teasing has been around for at least hundreds of years. According to NPR, historians have multiple theories as to how this holiday came to be. It may have been inspired by a "medieval celebration" that mocked church customs, or it may have come about during a festival in ancient Rome. Another theory states that it began in 16th century France, when the Gregorian calendar became the norm and moved the New Year from the spring equinox in March to January first. People who failed to reschedule their celebrations were considered behind the times and derided as "fools."
While no one is quite sure exactly when April Fool's started, these days everyone can be expected to get in on the fun, even major companies and brands. This year, Lay's was no exception. The popular potato chip brand decided to kick off the holiday by posting a fake new flavor on its Twitter account that is, shall we say, a rather interesting choice.
Some fans were grossed out by this fake flavor
"Just testing a theory, but comment if you'd try this fake flavor," Lays captioned its tweet, which featured a Deviled Eggs flavored bag of chips. This hypothetical chip had some of their followers gagging. "I can already imagine the smell when I first open the bag," @Bromenite replied. "The day I eat that will be the day I start sucking toes," wrote @NickTheCyberDi1. 
However, a few more adventurous eaters were intrigued by the idea. "Oh my goodness. I would so try it. I love deviled eggs," @mistykamer40 replied. @jtimbre tentatively agreed: "Not gonna lie I'd gobble these up... I think."
This isn't the first time the chip brand has decided to have a little fun with fans by teasing hypothetical new flavors. Last month, Lay's introduced another fake flavor in honor of Mardi Gras, inspired by the traditional King Cake pastry (via Twitter). This creative new flavor was also met with some skepticism, although a few fans did admit they would buy it. But while Lay's is certainly no stranger to thinking up interesting and unusual fake flavors, the question remains: Will the brand ever decide to make one of these more outlandish flavors a reality?