How Football Makes Great Chefs, According To NFL Veteran Tobias Dorzon - Exclusive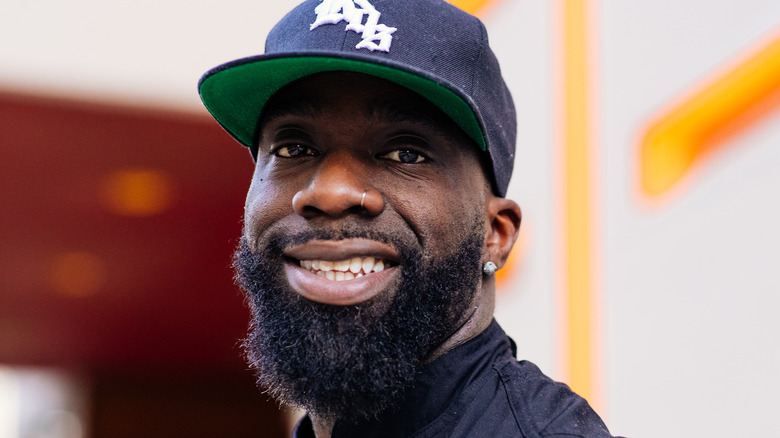 Carmen Mandato/Getty Images
No one can deny that Tobias Dorzon is full of ambition and willpower. According to The Focus, this former athlete turned chef started cooking professionally after quitting the NFL. And he really discovered his love of the kitchen in part by whipping up meals for fellow players and even started his own catering company to serve these star athletes. Dorzon eventually found further attention as he was spotlighted on several cooking shows, finding his way onto "Guy's Grocery Games," and currently starring on "Guy Fieri's Tournament of Champions," per Food Network. Playing football prepared Dorzon for just these types of cooking competitions and professional kitchens in a very particular way, as the star chef told Mashed in an exclusive interview.
"I always want to be the best," Dorzon said, explaining how his time playing pro football translated into his mastery over the culinary arts. "I think football, that mentality of football, of being resilient, really walked me through the days of culinary, where I was really about to say, 'F*** it.' That manpower of football really helped me get through those certain days in the culinary world."
Dorzon dishes even more on football and food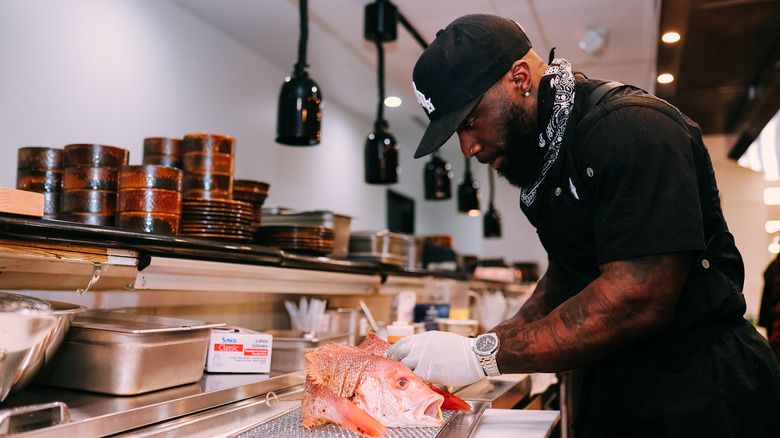 Carmen Mandato/Getty Images
Tobias Dorzon added, "I feel like football really was the key thing to make me who I am as a chef." He says the determination and willpower he learned in the NFL gave him a "never want to quit" mentality. "Football players tend to be really competitive. It helps me be really competitive in the kitchen, [which helps with] these culinary battle shows, they're perfect for me, because I'm used to battling, I'm used to going out. I was able to transfer football, something that at one point in time, coming up, I was always the best at. When you get to the NFL, it's a million of the best. I felt, at that time, that I wasn't the greatest at what I did."
Dorzon also acknowledged that, while there's been a lot of chefs that have been on popular cooking shows before, for him, it reminded him almost of being in a playoff game. "I know what it is to be in a one-game elimination ... I feel if I never played football and I walked into a competition like that, not knowing what it feels like to get eliminated first round or something [would be tough], but I knew what was at stake. ... Some things, you can't teach in culinary battles. It's a one-round elimination. You come all the way out here with a chance to win $100,000 and the opportunity to say you're the best chef in America. ... That's a lot of pressure for a lot of people that sometimes is not normal to be able to handle."
Catch Dorzon take on a variety of fellow chefs on "Guy Fieri's Tournament of Champions" Sundays on Food Network and keep an eye on his Instagram for even more updates from the celebrity chef.