Krispy Kreme's New Spring Collection Is Tinier Than Ever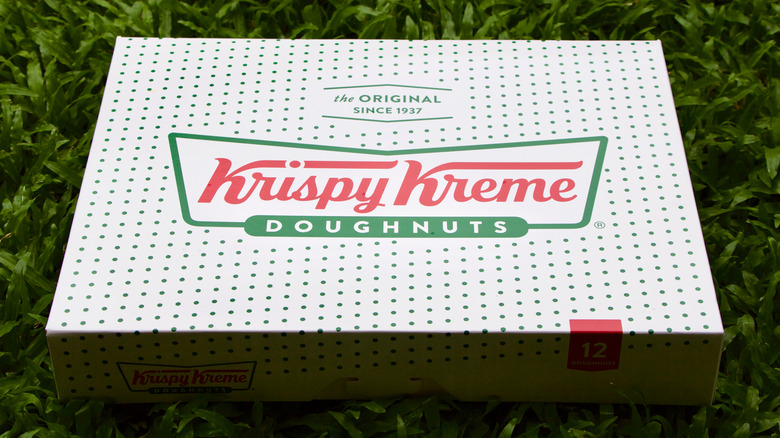 TongRoRo/Shutterstock
Krispy Kreme had a few customers confused last week when they took to social media to reveal a unique new product: L'Original Parfum, a glaze-scented perfume with "sweet notes of vanilla crème" (via Instagram). As we now know, the fragrance announcement ended up being nothing more than an April Fools' Day prank, which may have come as a disappointment to fans that aspire to smell "hot and fresh like an OG." And while we can understand that some doughnut lovers may now be a bit skeptical of new product alerts from the chain, we promise that the latest news from Krispy Kreme is far from a joke.
Just in time for Easter, the beloved North Carolina-based doughnut shop is now home to a new collection of miniature, spring-themed doughnuts that not only sound delicious but are pretty to look at, as well (via Business Wire). Available starting April 4, Krispy Kreme's limited-edition collection of Spring minis features four adorably tiny, egg-shaped treats, each of which is hand-decorated with one of four seasonal designs and features a different-flavored creme filling inside. The doughnuts can be purchased in 16-count boxes that have an Easter basket illustration on the front and will be offered at participating Krispy Kreme locations in the U.S. and Canada through Sunday, April 17.
The collection features new seasonal treats and a returning favorite
Doughnut lovers looking to take a bite into spring may find exactly what they're looking for in Krispy Kreme's Spring minis, each of which Business Wire reports will feature a different-flavored creme filling for the first time ever. The collection sees the return of the chain's Mini Chick Doughnut — this year filled with Krispy Kreme's signature Kreme — and will also feature three new egg-shaped mini doughnuts.
The Mini Chocolate Egg Doughnut includes chocolate Kreme filling, chocolate icing, and yellow and blue stripes, while the Mini Cake Batter Egg Doughnut features cake batter Kreme, light blue icing, and a trio of stripes accented with pastel-colored nonpareils sprinkles. Rounding out the set is the new Mini Strawberries & Kreme Egg Doughnut, which will include a white Kreme filling, pink strawberry icing, and pastel sprinkles.
News of Krispy Kreme's latest seasonal offering has generated some buzz amongst the chain's fans, 11,000-plus of whom have already hit "like" on the doughnut shop's Instagram post today announcing its latest menu addition. "OMG!!! Sooo cute! We can't wait to get these," one person said of the minis in the comments section. "Exactly what I need to forget about my Spring allergies," user @dough_nut_judge said.
Though there's no medical evidence that Krispy Kreme's new filled mini doughnuts can actually rid you of your pollen-induced sneezes, it's hard to argue that munching on one or two of these spring-themed treats won't be good for the soul.