The Secret Ingredient In Valerie Bertinelli's Minestrone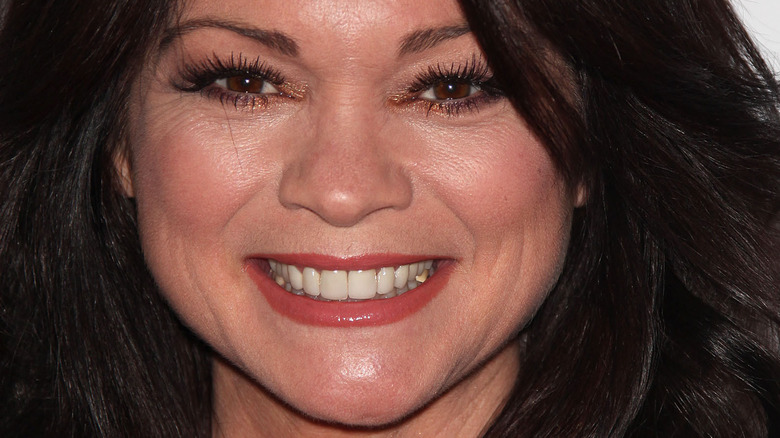 DFree/Shutterstock
It requires very little to make a batch of minestrone soup. With only four main ingredients — pasta, vegetables, beans, and a broth with tomatoes — the Italian soup can be endlessly customized to suit your taste and accommodate the veggies that remain in your pantry (via MasterClass). According to DeNicola's Restaurant, minestrone used to be referred to as the poor man's soup in ancient Rome because it could be made with whatever ingredients were leftover from other meals. This is also why, unlike some other Italian dishes, a minestrone soup has no set recipe. But this also means that the soup's flavors can easily be amped up or toned down depending on your mood.
Food52 for example, recommends using Napa cabbage to sweeten the minestrone soup, adding a splash of red wine to balance its signature heartiness, and serving the soup with grated parmesan on top. Giada De Laurentiis blends her potatoes and cannellini beans with some broth to make her version of minestrone heartier and smoother. She also sautés pancetta for the soup's base to add savory flavor, and swears by the addition of Parmesan rind into the soup for the unbeatable umami that it can bring to the soup. Valerie Bertinelli too has a minestrone trick up her sleeve and it promises to bring a whole lot of heat to the soup.
Valerie Bertinelli likes her minestrone with an extra kick
Celebrity chef Valerie Bertinelli thinks minestrone is a soup that is simple and basic but incredibly delicious with ancient Italian origins and traditions. Giving fans details about how she makes her version of the classic soup on Instagram, the author and television show host says that smelling a thick minestrone soup come together is almost as good as tasting the real deal once it's done. Plus, she says that serving the soup with an ultimate grilled cheese sandwich is the perfect way to modernize the Italian classic.
Bertinelli uses garlic, onion, and red pepper as well as carrots, zucchini, and tomatoes for vegetables, and completes the soup with beans and red wine vinegar. Although minestrone can be made with very little, Bertinelli says that the more that you add to the soup, the better it gets. You could go about tweaking and adding things to the soup but for the "Kids Baking Championship" judge, the secret to her minestrone is spicy sriracha. Swirl in a dash of sriracha to your minestrone next time, and Bertinelli says that your rich soup will have an "extra kick" of flavor!