TikTok Can't Get Over This Simple, Avocado-Based Filipino Dessert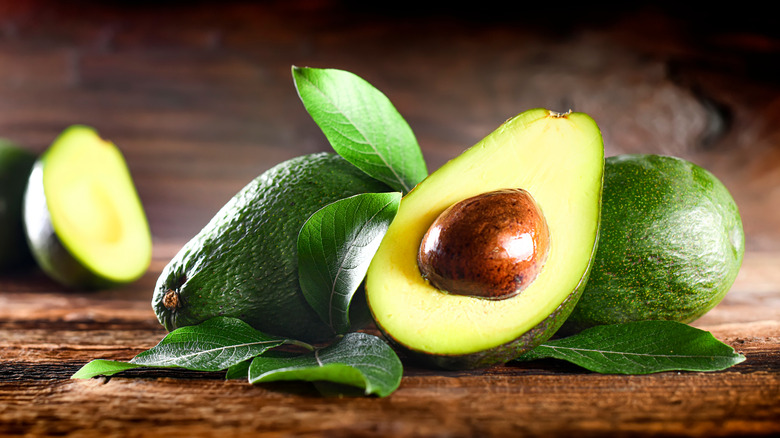 Krasula/Shutterstock
Not only are avocados known for their superb health benefits, but they are also incredibly versatile. Although the fruit is more commonly associated with savory dishes, avocados can be a tasty ingredient in traditionally sweeter dishes, including, yep, avocado cereal. Thanks to its mild taste and creamy texture, the bright green grocery staple is great to pair with more strongly flavored foods.
You may have heard about Kourtney Kardashian's go-to workout snack, avocado pudding, but for TikToker @jaztyler, another sweet way to eat avocados is in fudgey cookies. The internet went wild for the recipe creator's viral video, in which she made soft, gooey, double chocolate cookies that no one would have suspected were made with a few overripe avocados. Similarly, TikTok user @anna..paull shared the new way the enjoys avocado as a dessert. The recipe only uses three ingredients, which makes it ideal for someone who has limited time or kitchen experience, and it garnered 4.5 million views from social media users who are highly curious about the way it tastes.
All you need are avocados, condensed milk, and ice
In her TikTok, Anna Paul peels some fresh avocado in front of the camera before adding the insides to a bowl with ice. She then adds some plant-based condensed milk, although the regular version would also work for this recipe. After mixing the ingredients together, she takes a bite and urges viewers to try it, calling it "so delicious." She was inspired by a dessert from the Philippines, which Filipino blogger Ang Sarap simply calls "avocado and milk in ice." They add a bit of sugar to the recipe and use slightly smaller pieces of ice.
Commenters on Paul's video came to a consensus that she should try the ice more finely crushed next time, as is done in a recipe from Avocados from Mexico. "Filipino here. I eat it with crushed ice, milk/condense milk and sugar and I remember drinking it when I was little," one user wrote, suggesting that Paul also try the Filipino shave ice dessert, halo-halo. Others said they were "intrigued" by the flavor combination, and a few people suggested turning the dish into a smoothie for those who don't enjoy the texture of ice. Based on this feedback, the next time you have ripe avocados, you just might want to ditch your guacamole plans for this sweet, creamy, and refreshing Filipino dessert.