Cracker Barrel Is Jumping Into The Chicken Wars With Chicken N' Biscuits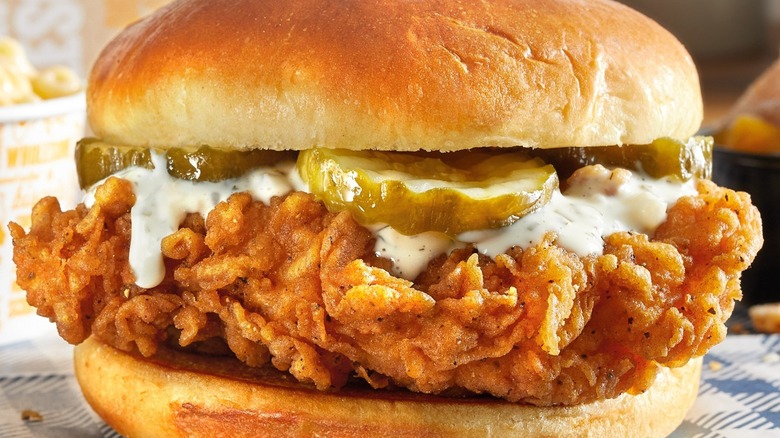 If you've noticed that it looks like every fast food chain has its own version of a fried chicken sandwich, you're not too off the mark. We've ranked fast food fried chicken sandwiches so you know where to get your next one, but there's another chain restaurant adding a fried chicken sandwich to the menus.
In a press release, Cracker Barrel announced an entire new menu and their new virtual brand, Chicken n' Biscuits. The press release states that over 400 locations will open across the country, and you can order from the Chicken n' Biscuits menu through apps like DoorDash, Uber Eats, and Grubhub.
It appears that the fast food chicken wars won't be ending any time soon, and Cracker Barrel's Senior Director of Strategy and Innovation explained that the Chicken n' Biscuits' Homestyle Chicken Sandwich is their contribution to the chicken wars. The Homestyle Chicken Sandwich has breaded chicken, pickles, and mayo on a brioche bun, and the sandwich also comes with steak fries.
What's on the Chicken n' Biscuits menu?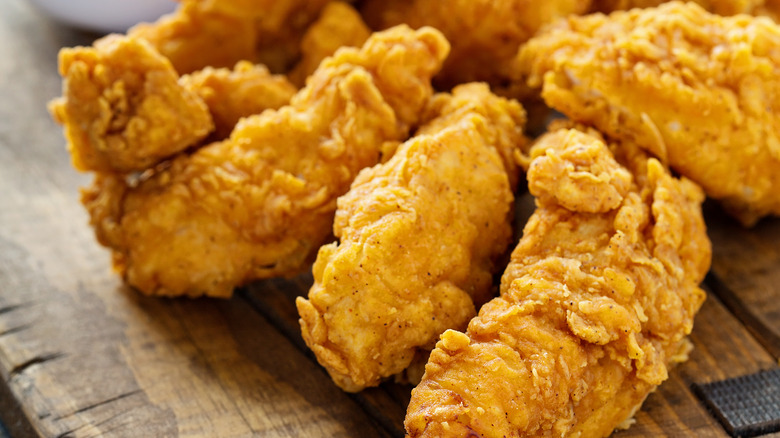 Elena Veselova/Shutterstock
Since this is a virtual and delivery-exclusive restaurant, you can order a meal on food courier apps directly or go through the Chicken' Biscuits website. Just keep in mind that this is different from Cracker Barrel's main website. Besides the chicken sandwich, you can also see what else is available for order online.
The menu from Chicken n' Biscuits' is much smaller than Cracker Barrel's typical menu, but it's clear that fried chicken is the star. Customers can purchase a box or bucket of Southern fried chicken or fried chicken tenders. If you need sides, you can choose from steak fries, mac and cheese, coleslaw, and green beans. To finish with something sweet, there's cobbler.
Based on the press release on PR Newswire, Chicken n' Biscuits isn't entirely new. Chicken n' Biscuits started nearly a year ago in May 2021, but now, this is Cracker Barrel's expansion into virtual kitchen and online restaurant spaces. Sound familiar? Some other major restaurant chains that have started delivery-only services and virtual food brands, and McDonald's wants to be the first restaurant in the Metaverse.