Not Everyone Is Loving Rachael Ray's 'Mexican-Ish' Street Corn Pasta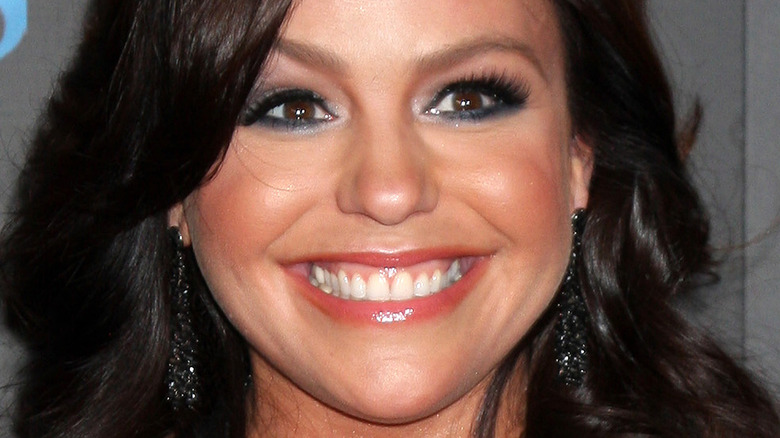 Kathy Hutchins/Shutterstock
Fans are all for celebrity chefs sharing recipes for picture-perfect roast chickens, vibrant summer salads, pristine chocolate chip cookies, and easy one-pot meals. But history has shown that some recipes don't go over well.
Gordon Ramsay got a lot of slack on social media when his version of Bifana, a traditional Portuguese sandwich, looked more like a Philly cheesesteak than the simple grilled pork and bread that the Portuguese meal is supposed to be (via Hello! Magazine). Even Nigella Lawson found herself shunned by an entire country after she added cream to her pasta and called it carbonara — a pasta that uses nothing except pecorino Romano, guanciale, black pepper, eggs, and spaghetti according to carbonara traditionalists (via All Recipes).
Now, Rachael Ray is facing the brunt of similar fury after posting the recipe for a "Mexican-ish street corn pasta" on Instagram. Possibly referring to the famous Mexican street corn known as esquites, the TV personality calls her creation "a pasta dish that tastes like Mexican street corn." While some might appreciate Ray's creativity and attempt at trying to fuse two different cuisines, others are not so pleased with the play on this Mexican favorite. As one disappointed fan points out "This makes me so super sad. She tries really hard with her Mexican dishes but yet she still does not get it."
Another internet fail for Rachael Ray
Those who follow the Food Network star's social media accounts will know that this isn't the first time the chef has gotten into hot water over her take on an international recipe. Instagram had mixed feeling about Ray's arroz con pollo recipe, with fans claiming it was anything but what it claimed to be. Even her pico de gallo with a twist — an attempt at another Mexican classic — was largely disapproved of.
Once again the cookbook author has fans up in arms with a "Mexican-ish street corn pasta" recipe she posted on Instagram. One infuriated fan says that Ray is "insulting 2 cultures at the same time with this recipe" and another says that her attempt at cooking Mexican cuisine is "past culture appropriation, it's now just insulting." 
There are some fans who defend Ray for attempting to do something new and think that even though the dish isn't necessarily Mexican, it looks delicious nevertheless. The rest, however, are not happy with just how far the recipe has strayed from the Mexican version. "I know as a chef you elevate ingredients but Mexican street corn with beer and pasta? NEGATIVE!," says one user while another offers a more brutal comment stating that Ray should "chill out with attempting to fuse Italian dishes with authentic Mexican cuisine...epic fail," and even insists that "some of the food network's original talent needs to retire. Quickly." Yikes!