A Fan-Favorite Little Bites Muffin Flavor Is Back Just In Time For Summer
Whether blueberry, banana nut, cranberry orange, or some other variety, muffins are as popular of a breakfast and brunch treat as they are a quick snack with a cup of tea. While you can snag a full-size muffin at Starbucks or Panera (or bake homemade ones at home), sometimes you want something a little more snack-sized. Enter Entenmann's Little Bites, which are popular among parents of kids who like a little sweetness in their lunchbox, at the movies, or anywhere else on the go. Little Bites muffins are packaged in bags of five mini treats (via H-E-B), making them a shareable, transportable option when hunger strikes.
The brand's bite-sized muffins come in four classic flavors year-round: banana, chocolate chip, strawberry yogurt, and blueberry. However, Entenmann's has now announced that it's releasing a limited-edition flavor just in time for the summer: The brand is bringing back Little Bites s'mores muffins. Here's what you need to know about the seasonal treats, including where you can buy them in the months ahead.
The new Little Bites will only be available through July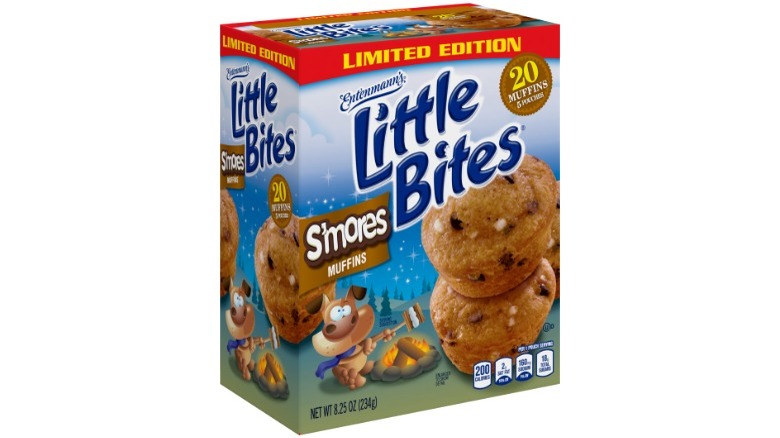 Entenmann
Imagine the taste of a campfire s'more — with its gooey toasted marshmallow, melty chocolate, and crunchy graham cracker — in muffin form. That's what Little Bites says you'll get with its limited-edition s'mores muffins. According to a press release from Entenmann's, the treats will be available only through July 24, 2022, or while supplies last. You can find them at most major retailers, including grocery stores, Target, and Walmart. Each pouch clocks in at 200 calories and contains zero trans fat or high-fructose corn syrup. 
This is not the first time that Little Bites s'mores muffins have been on shelves; they were previously an offering in 2016. The blogger behind Junk Banter tried them and gave them an overall positive review. "The combination of the graham cake-like muffin and the chocolate chips do all the legwork making these taste like a muffin inspired by s'mores," they wrote, adding, "What also helps this is the muffin being soft and fluffy in and of itself, like a puffy marshmallow in a way."