Martha Stewart's 'Easiest Cheesecake' Is Perfect For Easter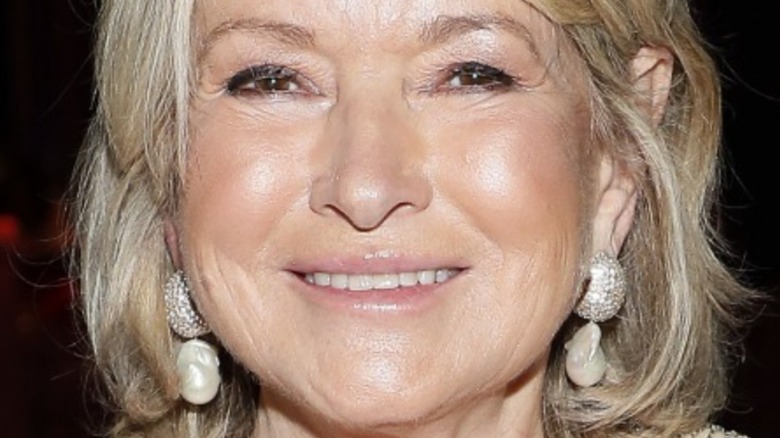 Paul Morigi/Getty Images
You may be a cheesecake connoisseur, or you may only see the likes of a cheesecake while watching The Golden Girls, but in case you are an avid fan of this decadent dessert, Martha Stewart says there's a way to perfect it.
Cheesecake fans — at least the ones that will both make them and eat them — are likely to agree on the need for a water bath to achieve the creamy, dreamy consistency that the dish is known for. Per Culinary Hill, a water bath gives cheesecakes the chance to bake "more slowly and evenly without browning the top." The water bath effectively keeps the temperature around the cheesecake at 212 degrees Fahrenheit, regardless of how hot the oven might be.
The Domestic Goddess dispenses with the water bath to make what she promises is "the easiest cheesecake to make." The recipe, which was first shared online on Martha Stewart Living back in 2010, resurfaced on social media just in time for Easter. In the Instagram post, Stewart calls for the use of fresh, whole-milk ricotta cheese, which must be pureed until smooth, instead of the much heavier cream cheese that is generally used in many versions of the recipe.
Ricotta is commonly used in Italian cheesecake recipes
While Stewart's recommendation to substitute ricotta cheese for the cream cheese might surprise you, it's one that is also espoused by Giuliano Hazan, son of legendary Italian cookbook author Marcella Hazan. On his website, Hazan posts an Italian Ricotta Cheesecake recipe and writes that "...in Italy, cheesecake is made with ricotta rather than cream cheese. It is also a bit lighter and dryer, more cakelike and less cloying." 
In addition to changing out the cheese, Stweart makes the recipe less complicated by suggesting an ingredient swap of fresh berries in place of the recommended citrus-vanilla compote. Easy, however, is all relative, especially when it comes to cheesecake. 
Although it claims to take a mere 15 minutes to prepare, Stewart's ricotta cheesecake recipe from 2010 calls for six large eggs to be separated, and then used separately, with the yolks to be mixed with the other ingredients, and the whites whisked until you get stiff glossy peaks. This, of course, will be simplest to do if you have a mixer. 
For those who'd rather save the eggs for Easter decorating, you can try this easy, no-bake cheesecake recipe.