The Oldest Restaurant In America Has A Surprising Role In HBO's Julia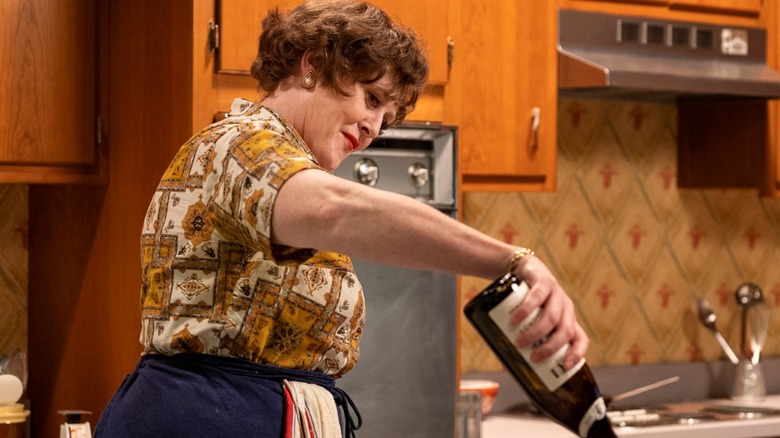 HBO
Julia Child's famous PBS TV show may have been titled "The French Chef," but Child had some notable ties to the Boston area during her career as a cookbook author and television personality. HBO Max's newly released eight-episode show "Julia" follows Child, played by Sarah Lancashire, throughout her journey to become one of TV's first and most beloved cooking show hosts, often amid much opposition from directors and producers, and it also presents a portrayal of Child's devoted marriage (via Warner Media press release).
According to Boston.com, Child lived much of her life in Cambridge, Massachusetts; therefore, a popular Boston restaurant frequented by Child was the natural choice when it came to filming parts of the pilot episode in late 2020. The lucky eatery was Union Oyster House, which opened in 1826 and claims to be "the oldest restaurant in Boston and the oldest restaurant in continuous service in the U.S." The restaurant, first called Atwood & Bacon, featured oysters, clams, and scallops on its original menu. According to Union Oyster House's current owner Joe Milano, when Child would visit in the 1950s and 60s, she was an adventurous eater. "This was one of Julia's favorite restaurants. She loved oysters, seafood, she was kinda the Renaissance lady," Milano said (via WHDH).
Union Oyster House was transformed for the filming of Julia
Union Oyster House, as well as the outdoor areas surrounding the eatery, took a step back in time for the filming of part of the pilot episode of "Julia." The interior of the restaurant was set to look like it did during the timeframe Child would have enjoyed a meal there, and vintage cars, including a convertible and a sharp-looking taxi, were parked on the street outside (via Boston.com). WHDH Boston reported cast members were clad in era-appropriate costumes and by the time filming was said and done, they had eaten a total of approximately 30 lobsters. Doesn't sound like a bad day job, if you ask us!
Apparently, Union Oyster House wasn't the only Massachusetts locale featured in the show, as scenes were also filmed in Harvard Square in Cambridge, at Wilson's Diner in Waltham, and in other towns and cities throughout the state. According to another Boston.com article, as it turns out, Child wasn't the show's only connection to the area; "Julia" executive producer Chris Keyser is a Harvard alumn.