Why Rachael Ray's Charred Scallion Pesto Recipe Has People Talking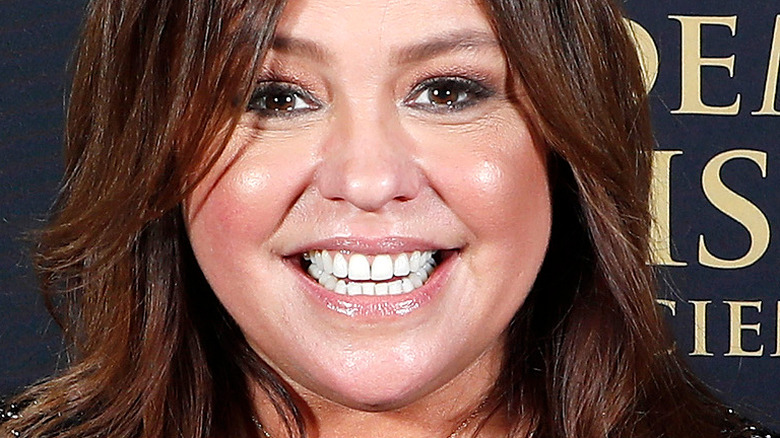 Joe Seer/Shutterstock
There's no need to set a timer: Self-taught chef and Food Network icon Rachael Ray became a household name for her meals made on the fly and in a flash — a half-hour or less. Her signature show, "30 Minute Meals," aired on Food Network for more than a decade before ending production and then getting a reboot in 2019 (per Food Network).
Lately, the queen of comfortable, comforting, accessible, and mostly easy-does-it recipes for all tastes and occasions has been filming from her home in Upstate New York, as well as using Instagram to stay connected with fans and supply them with a steady stream of the short, usually 60-second videos known as Reels.
Dinner in a minute: That would be everyone's dream come true, right? Ray posted a quick video (via Instagram) in which she banged out a big bowl of Charred Scallion Pesto, cheekily captioning it, "The pest(o) is yet to come." As its name suggests, the recipe starts with a big bunch of green onions in a ripping hot grill pan and also incorporates fresh mint, basil, parsley, olive oil (or EVOO, as Ray and her fans like to call it), nuts, cheese — most of the usual ingredients that go into a pesto. But the video has a number of Instagrammers talking about something else entirely.
Instagram debated the way Rachael Ray gives directions in the kitchen
"We're gonna bust out with Charred Scallion Pesto," the food TV veteran says to start things off. The Instagram video segues to the stove, where Ray sprays a hot grill pan with cooking spray and throws in the scallions. Meanwhile, she dumps a bag of pasta into a pot of boiling water. At the food processor, she zests and juices a lemon, adds some toasted pine nuts and pistachios, tops it off with the herbs and garlic, and moves aside.
"John flying in," she calls out as husband John Cusimano appears. "Pulse, pulse, pulse, pulse, pulse," she instructs. Ray drains the pasta, saves some of the "starchy water," and tells John to add the cheese. She chops the charred scallions, then adds a cup of pasta water to the cooked pasta. "This is where we relieve John of his duties," she says, returning to the processor.
The meal looks like it's almost ready, but things are just getting started on Instagram. "Love you girl, but #1, he is your hubby, not your soldier or employee," writes one follower, adding, "calm down sis." Another fan opines, "Amazing as always. But, girl, you went from giving us 30 minutes to 30 seconds. I do not think I can make that happen." Then there's the commenter who simply loves "watching you & John cook together!" However you toss it, judging by the end result, this noodle dish seems worth the fuss.